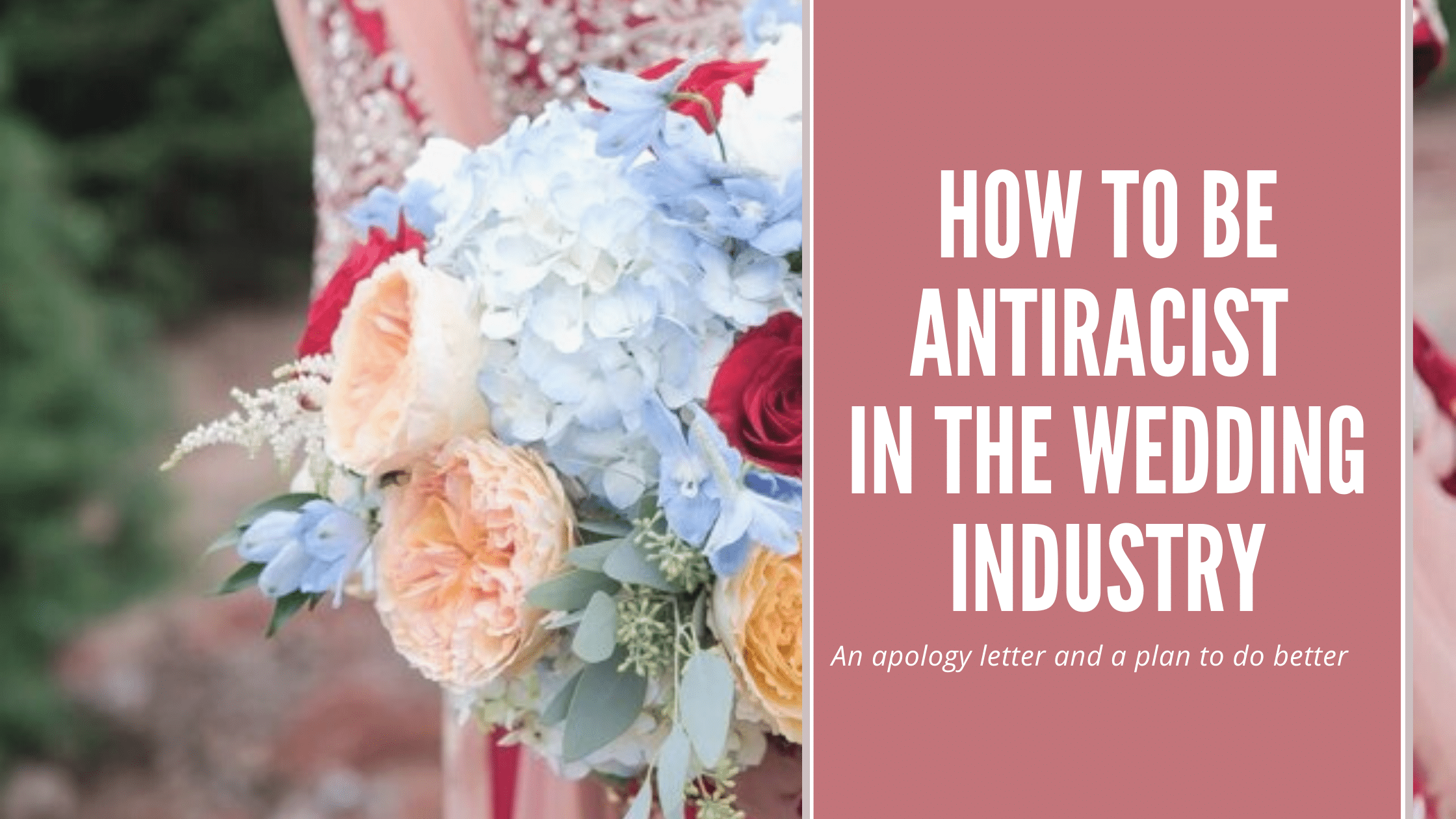 This is an apology letter and my plan to do better as a business owner, a wedding professional, and a white woman. George Floyd's senseless death at the hands of four police officers enraged and saddened me. I was both sad and mad to the fact that another life was taken by a racist system, and equally sad and mad when I began to self-reflect and realize my own part in that racist system. I am taking a stand now and am embarrassed that this stand wasn't outspoken years ago. I am sorry for my years of silence, hidden behind white privilege. I am doing the work now to dismantle my own white privilege and see where I can do better to be anti-racist, and the many ways I can take action and loudly make known that Black Lives Matter.
At the core of my wedding floral business' mission has been environmental ethics. Its been important to me to support local flower growers, purchase eco-friendly, low or no pesticide blooms, and implement sustainable design methods that have a low environmental footprint. I am realizing that this mission sadly falls short. I am now developing my company's mission to include diversity and inclusion, and to be anti-racist at its core. Over the past few weeks, I have began a journey of self-reflection to see where I can do better and the concrete steps I can take in my wedding business to be anti-racist.
Step 1: Self-reflection and education
I am reading books, watching movies, listening to podcasts, and taking online training to learn the history of racism and see where it shows up in our culture, self-reflect on my own actions and where I could have done better, and learn what steps I can take to dismantle racism and further racial justice. Click here to see a great starting place for books to read, podcasts to listen to, and movies to watch to dismantle racism.
Step 2: Diversify my vendor network
Engaged couples often ask for my recommendations for other wedding professionals to hire for their wedding. I am realizing my current vendor referral list lacks many professionals of color, so I am currently rebuilding my vendor list to be more diverse. I will put in the effort to connect with more black, indigenous, and people of color in the wedding industry, and I will encourage couples to hire a diverse team of vendors for their wedding day.
Step 3: Representation in photos
This one has been on my mind for weeks. I want to diversify my photos on social media and my website to include more people of color, but I don't want the action to be perceived as token statements. I also recognize that I have been a part of many styled shoots where models were not compensated. Going forward, whenever a person of color models or contributes their creative work, I am going to make sure they are compensated, so that I am not exploiting people of color for my own capital gain. I have a styled shoot coming up that includes a bi-racial couple and I am asking all vendors to contribute to paying the models for their work. The photos I use going forward with past styled shoots of people of color, I am reaching out and paying them in reparations, and apologizing that I hadn't even thought to pay them previously. This is somewhere that can be radically changed in the industry, as models often aren't paid in styled shoots, yet there are model calls for same-sex couples or people of color in order to diversify our portfolios and social network photos. We can do better, wedding pros.
Step 4: Diversify my company
Flowers by Alana is primarily a one-woman show, but I have big plans to expand and hire a diverse team in the coming years. I am committed to including people of color in my team, and creating a safe, equitable space where everyone is treated and paid fairly. I also am committed to holding equity and diversity trainings for my future team.
Step 5: Support anti-racist companies
These past few weeks have given me the opportunity to look to the companies I directly support with my dollar, and whether they are staying silent or also doing the work to dismantle racism. I am proud that my neighborhood credit union OnPoint that I use for business banking has made statements standing with the black community. I have also recently switched to Honeybook for organizing my templates, contracts and invoicing. I choose them over other organizing systems because they were quick to stand with the black community. I am also a proud paying member of the MOB Nation, a mom owned business network who have done incredible work at educating their members on dismantling racism, and taking a stand the Black Lives Matter. Going forward, I will continually research companies I am supporting and choosing anti-racist companies over silent ones.
Step 6: Boycott racist locations
I take a stand and boycott plantations or other historically racist locations for weddings or styled shoots. I was admittedly ignorant that this was an issue in the wedding industry, but am grateful to become aware. I have been asked over the years to travel and design wedding flowers in other states and going forward, I will make sure the locations aren't ones with racist pasts.
Step 7: Donate to the cause to fight for racial justice
I am donating a percentage of my profits this year and going forward to organizations committed to dismantling racism, including the Black Lives Matter Global Network Foundation and the NAACP.
Step 7: Support and stand for love in all forms
As a wedding florist, I am honored to be directly a part of the celebration of love between two people. I am committed to supporting and standing for love in all its forms with absolutely no judgement or prejudice. I celebrate and embrace interracial couples, couples of color, and same-sex marriages. Black Lives Matter. Black Love Matters. Love is Love.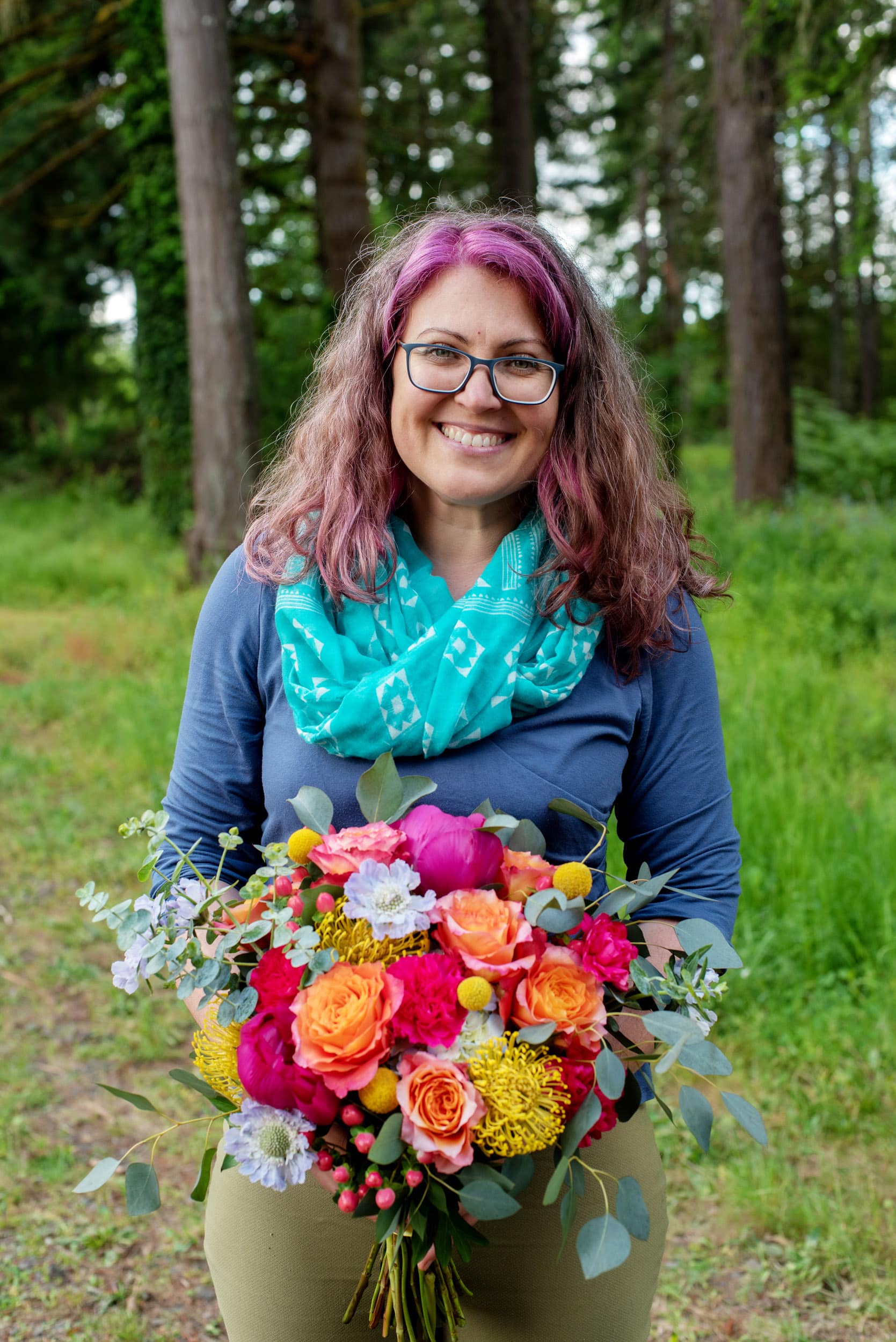 Are you a wedding professional who has other ideas on how we can dismantle racism in the wedding community? Please leave a comment below! Are you a BIPOC (black, indigenous, person of color) wedding professional local to the Pacific Northwest who would like to be a part of my wedding vendor referral list? Let's be in touch!