With the Covid-19 pandemic still affecting our lives and restricting large gatherings, many engaged couples are opting to elope at scenic locations like the beach, desert, or mountain forest. Oregon offers engaged couples many beautiful locations to elope, including dozens of gorgeous waterfalls only a short drive from Portland. Several waterfall hikes along the Columbia River Gorge became closed in 2020 in either an effort to curb the spread of the coronavirus or were in areas affected by forest fires, but some waterfalls have recently re-opened for visitors. See a list of park re-openings and closures at stateparks.oregon.gov.
I was honored when my friend and talented wedding photographer Emily Skye asked me to provide wedding flowers for a waterfall elopement styled shoot at Latourell Falls in the Columbia River Gorge. The theme of our waterfall styled shoot was boho luxe, which blends the earthy natural tones and elements synonymous to the boho trend with luxurious and sparkly details. To give the overall boho luxe look a Spring vibe, we brightened up the typical beige and neutral palette of boho with pops of gold, peach, dark pink, and yellow.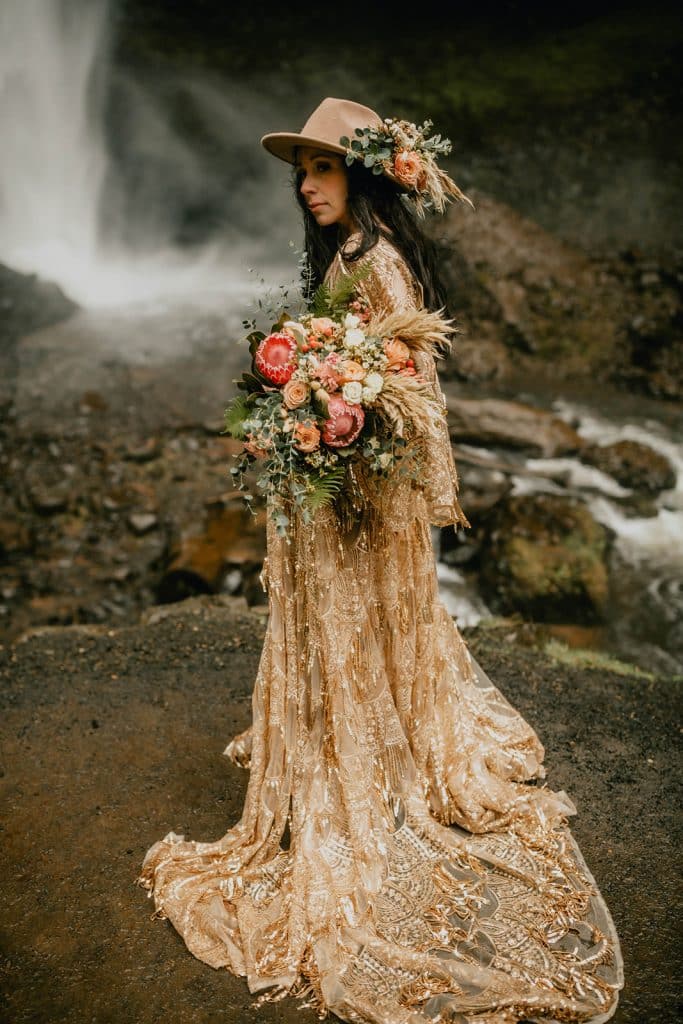 The bride model Winter Carter wore the most a stunning gold sequined and beaded bridal gown designed by dress designer Sew Romantic Designs. The gold "Gatsby" dress aligned perfectly for the boho luxe style, with its intricate details of gold sequins, beaded fringe and its long overflowing sleeves and skirt. Portland based dress designer Sarah Haimes of Sew Romantic Designs designs absolutely gorgeous gowns for both custom orders and rentals for photoshoots. Her gowns have been featured in Vanity Fair!
For the boho luxe elopement shoot, Flowers by Alana designed a large boho-style bridal bouquet made with large pink ice protea, peachy pink "Shimmer" roses, white spray roses, dark pink hypericum berries, white wax flowers, pink stock flowers, pampas grass, dried bunny tails, ferns, and gunni eucalyptus. We also provided a floral piece for the bridal hat–a beautiful beige fedora, as well as a boutonniere for our groom model, and loose florals and greenery for a Luxury Micro Picnic that followed the waterfall shoot, designed by the wedding planning company Love Kassaundra, LLC.
All the photographs in this blog post are by Emily Skye Photography, a talented Portland based wedding photographer whom I've had the pleasure of becoming friends with this past year while teaming up on several styled shoots. Some of our other styled shoots we've collaborated on have been published by Wedventure Magazine and Oregon Bride Magazine.
For this shoot, we teamed up with talented Allison Ullman of Ringed Portland, an eco-friendly Portland based jeweler who specializes in designing and hand-making beautiful wedding rings and other wedding jewelry using ethically sourced gems, recycled gold, and other sustainable metals. She also teaches virtual workshops for couples to make their own wedding rings! All the jewelry worn by our models in the shoot were designed by Ringed Portland, including a stunning emerald wedding band, dangly tourmaline earrings, and a gorgeous necklace.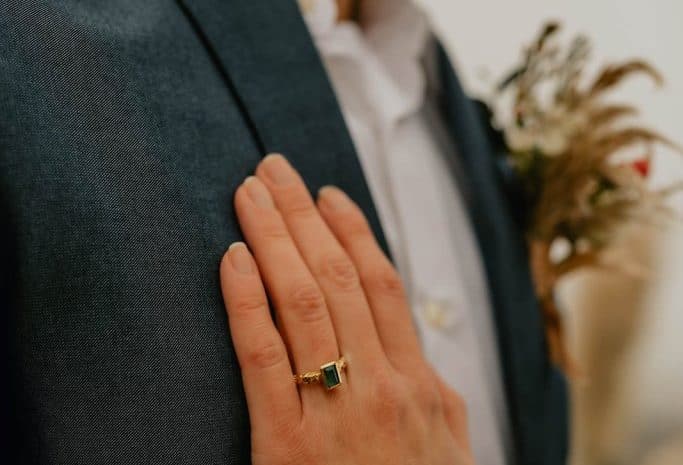 Besides the gorgeous waterfall shots, dramatic photos were also taken near the Vista House on Crown Point, in front of Winter Carter's Jeep lights. I forgot to mention that this photoshoot adventure started before sunrise to get the jeep light shots as well as avoid the daytime crowds of the waterfall trails.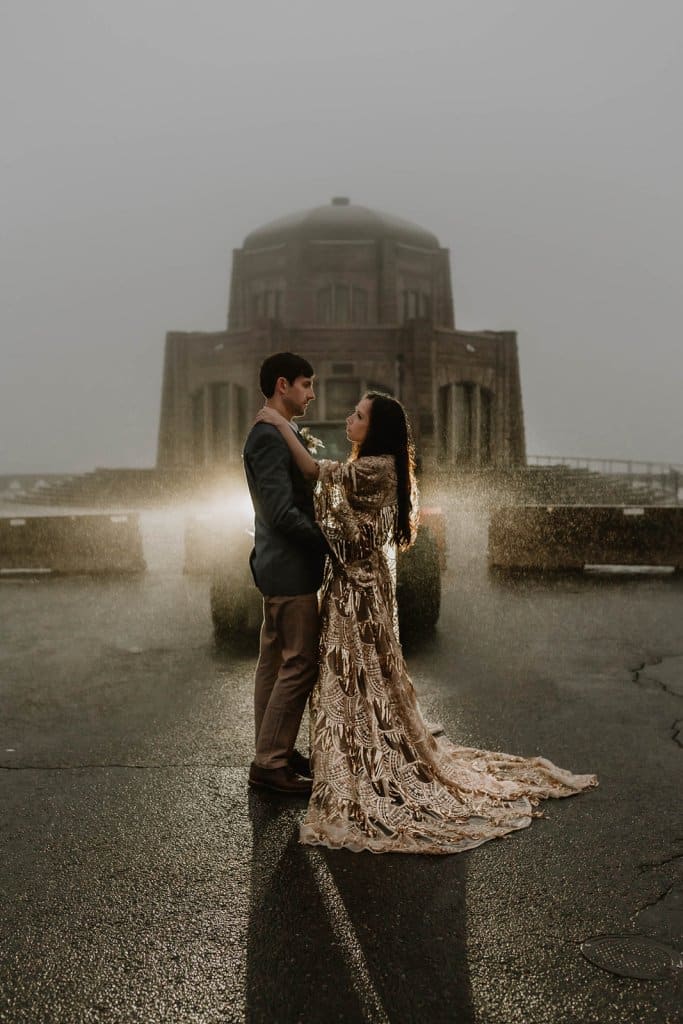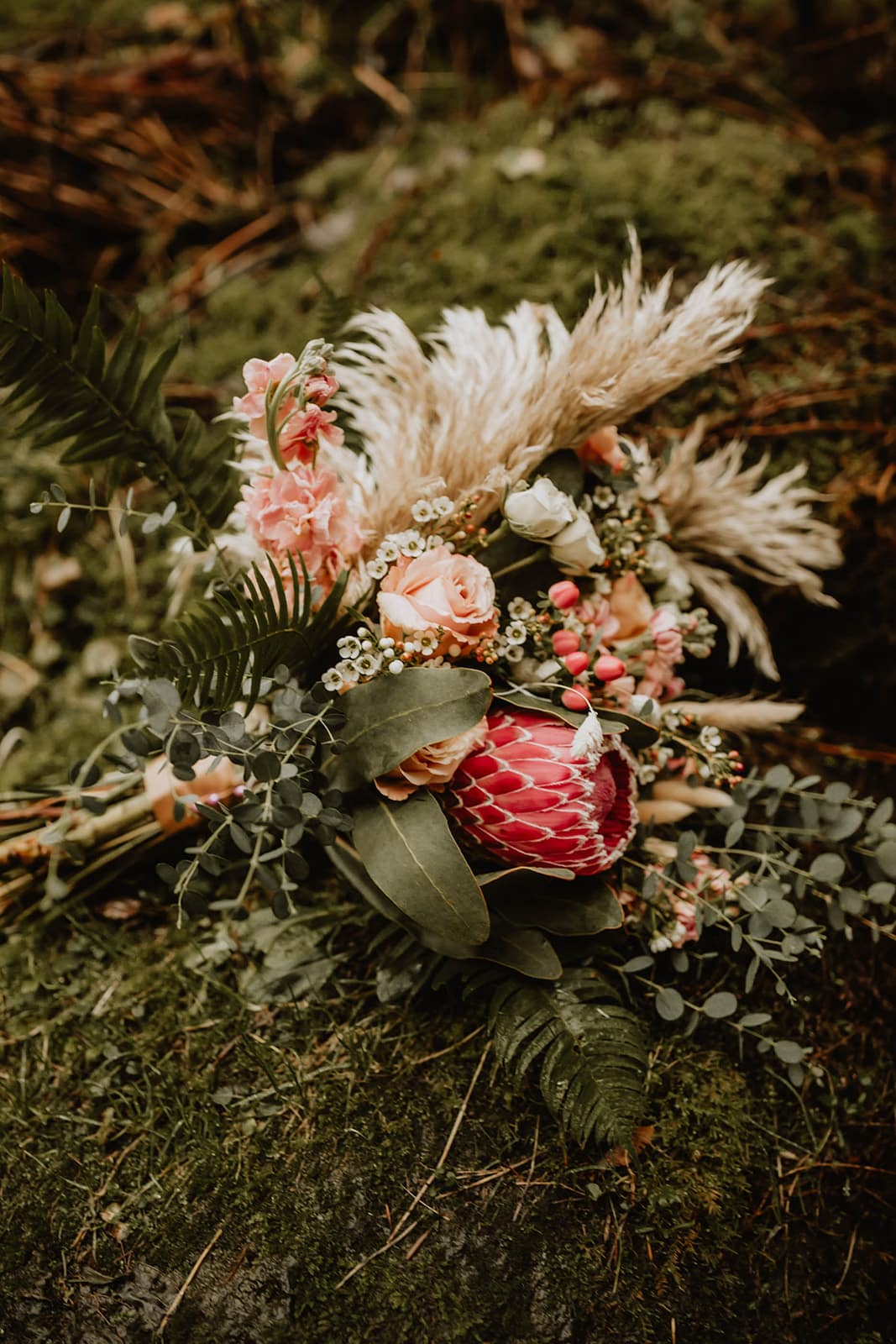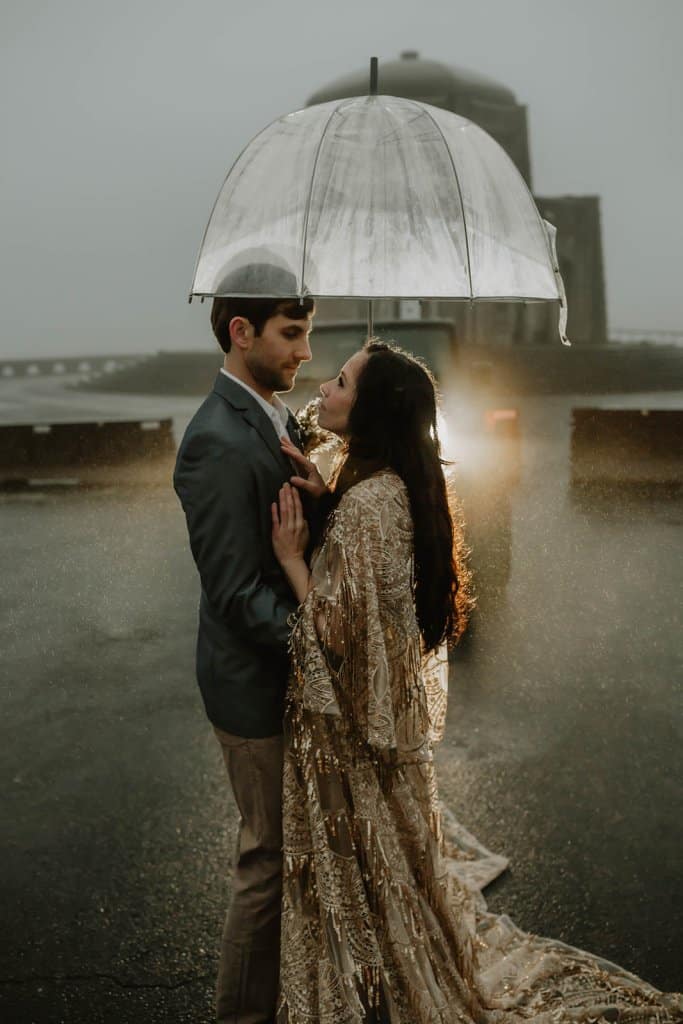 And lastly, a Luxury Picnic was styled by wedding event planner Love Kassaundra who offers K + M Luxury Micro Picnics, a fun customizable, styled picnic for special events. They provided and styled all the elements for the picnic including rugs, low to the ground tables, macrame runners and linens, tableware, candles, lanterns, pillows and more. Flowers by Alana provided loose greenery and pops of flowers and pampas grass for the picnic decor.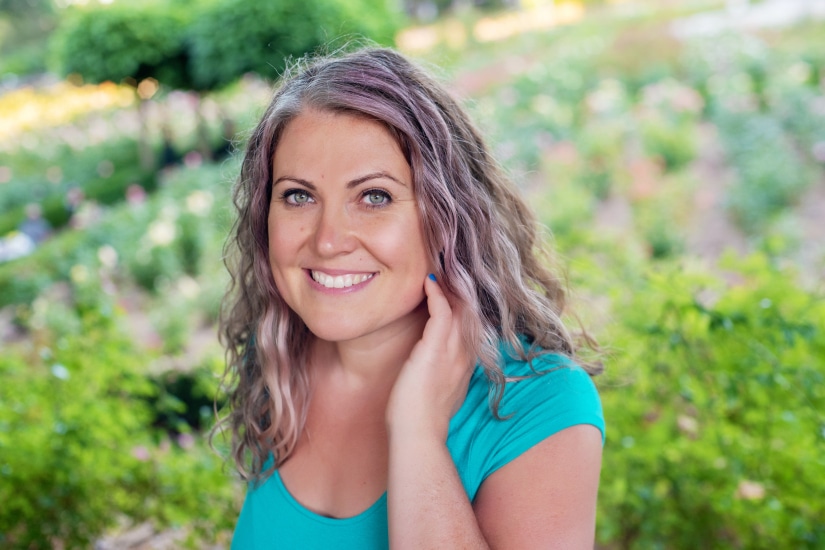 Follow the Waterfall Elopement team on Instagram!
Coordinating Photographer Emily Skye Photography
Photographer Karen Yoo
Photographer Grace Roth
Gatsby dress Sew Romantic Designs
Florals Flowers by Alana
Model Winter Carter
Jewelry Ringed
Picnic styling K + M – Luxury Micro Picnics