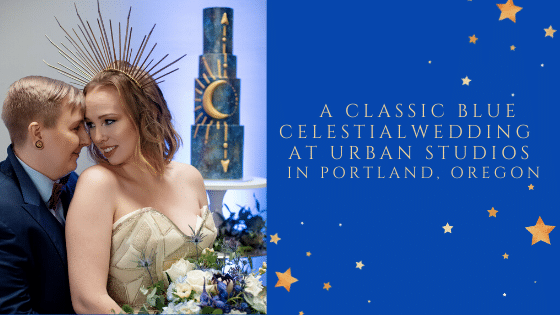 Earlier this year, as in before the coronavirus pandemic when life was normal and we were all hopeful for an epic wedding season in 2020, I was asked to be a part of an incredible styled shoot and be featured on NW Wedding Underground, or NWWU for short. NWWU publishes video interviews and venue tours on their wedding blog showcasing different Portland area wedding professionals. Click on Episode 5 to see the full episode of our styled shoot on NW Wedding Underground! Click here to see Flowers by Alana's specific feature on the NWWU blog as one of their recommended wedding florists. All photos were taken by Crystal Genes Photography, and all videos were filmed by Dane Casperson of Casperson Productions.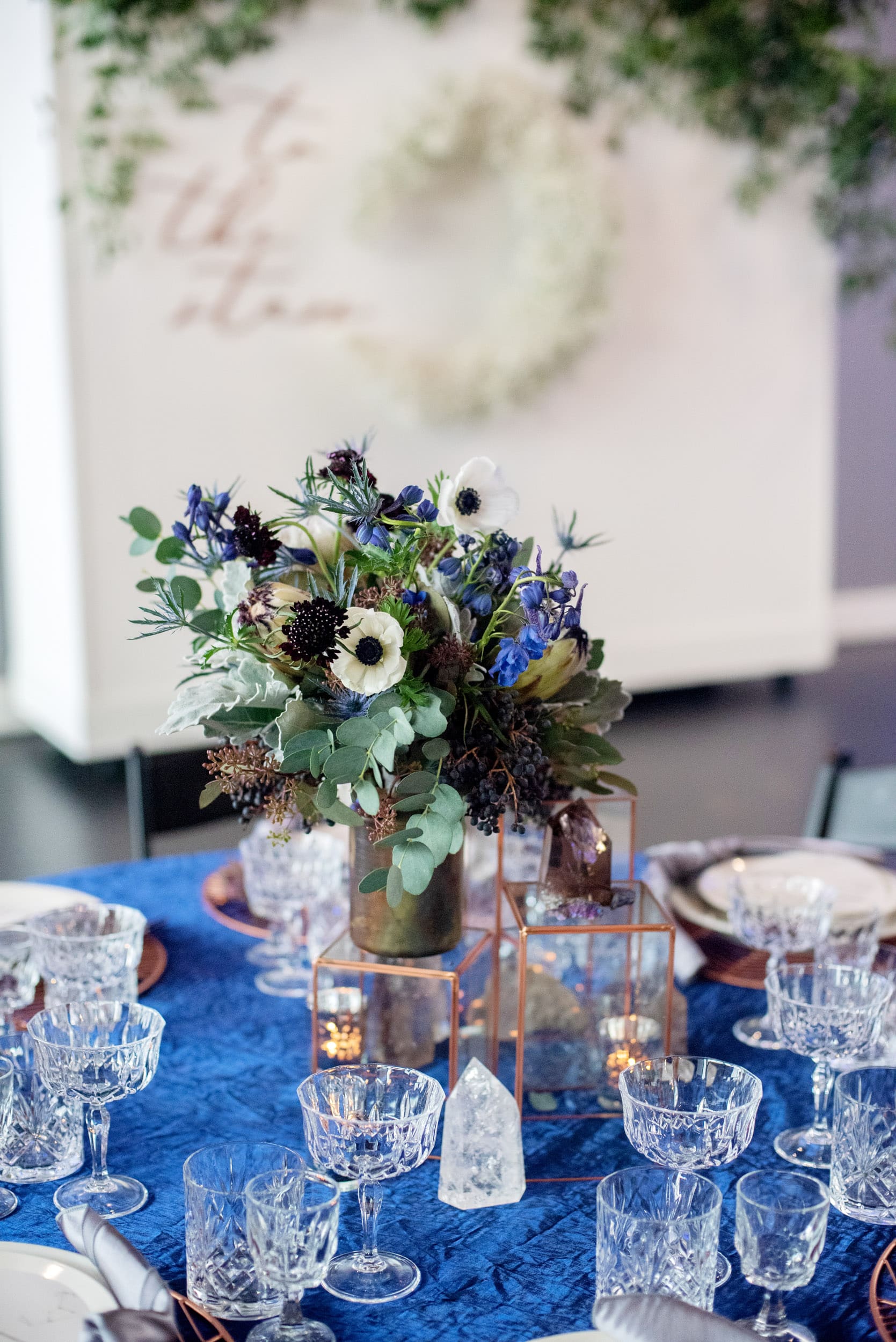 A month before the shoot, I met with the photographer Crystal Genes, the wedding planner Ashley Lachney of Alston Mayger Events and Natalia, the event director of Urban Studio to discuss color and theme ideas for our upcoming featured shoot. I was thrilled that we decided upon a celestial themed wedding shoot in classic blue, the Pantone color of the year. The walls of Urban Studio are painted a dusty blue gray, and they have these neat movable white walls that set the ceremony altar space in various ways. I was excited to get to work designing a celestial altar installation that would use one of the white movable walls. At first I was envisioning a metallic crescent moon using gold painted PVC pipe, but opted for a babies breath installation in the shape of a crescent moon instead. I formed the crescent moon using 1-in hex chicken wire, filled it with babies breath, and suspended it on the movable wall backdrop by strong fishing line. Along the top of the altar installation above the babies breath moon, I suspended greenery vines called Southern Smilax, which brought in a hint of being in a moonlit garden setting within the urban venue. A wooden sign in the words of "To the Stars," laser-cut by sign designer Modern Birch Co was the perfect touch to complete the celestial altar installation.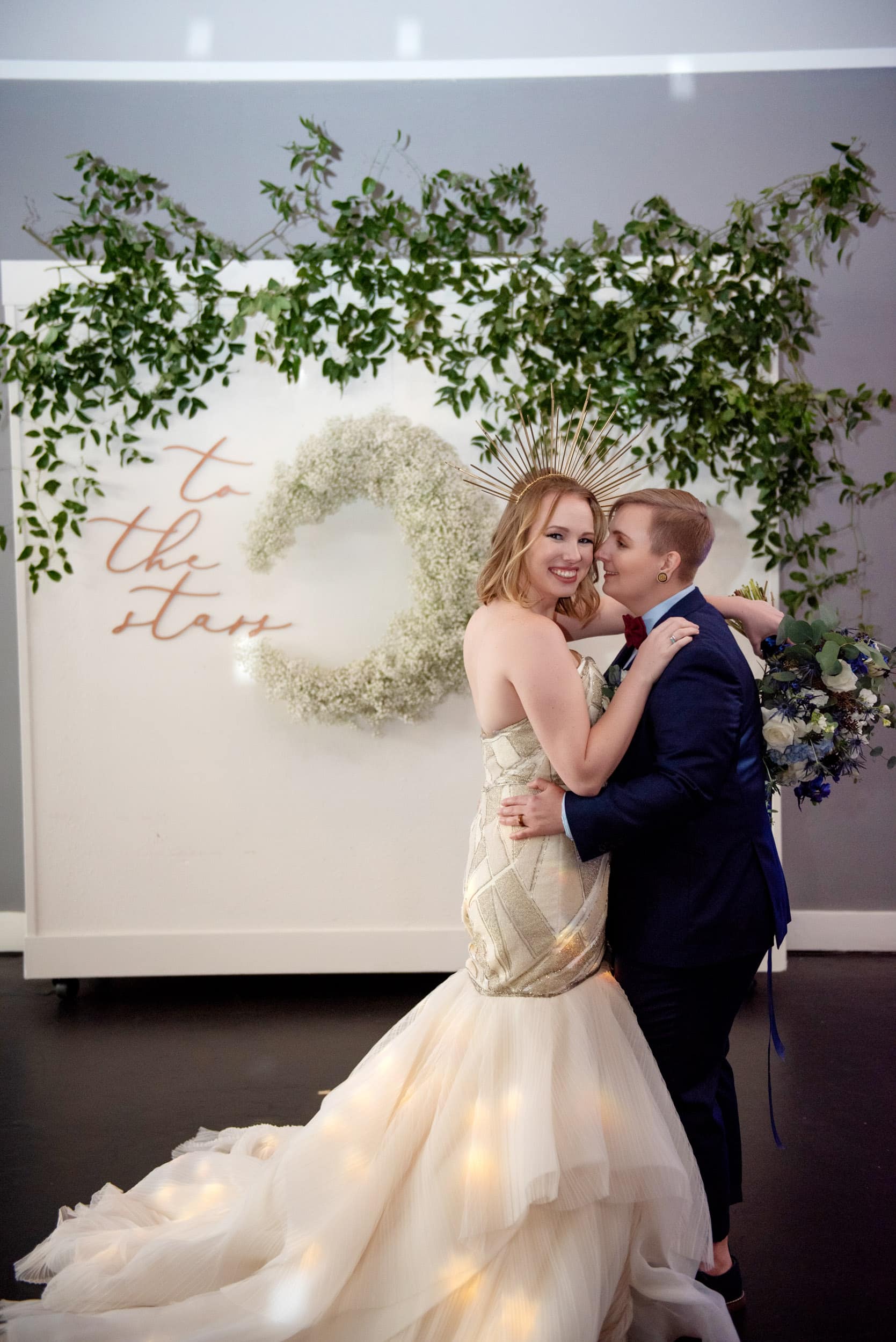 The flowers I used for the classic blue wedding palette included blue delphinium, blue thistle eryngium, pale blue hydrangea, white anemone with dark blue, almost black centers, white mink protea with deep purple centers, white escimo roses, soft silvery dusty miller, various varieties of eucalyptus, dark burgundy scabiosa, and Ligustrum berries (also known as Japanese privet.) We wanted a palette that spanned the entire blue spectrum from very soft pale blue to very rich, dark berry tones. I was most excited to score the white and deep purple mink protea at the wholesale flower market to complete the classic blue palette!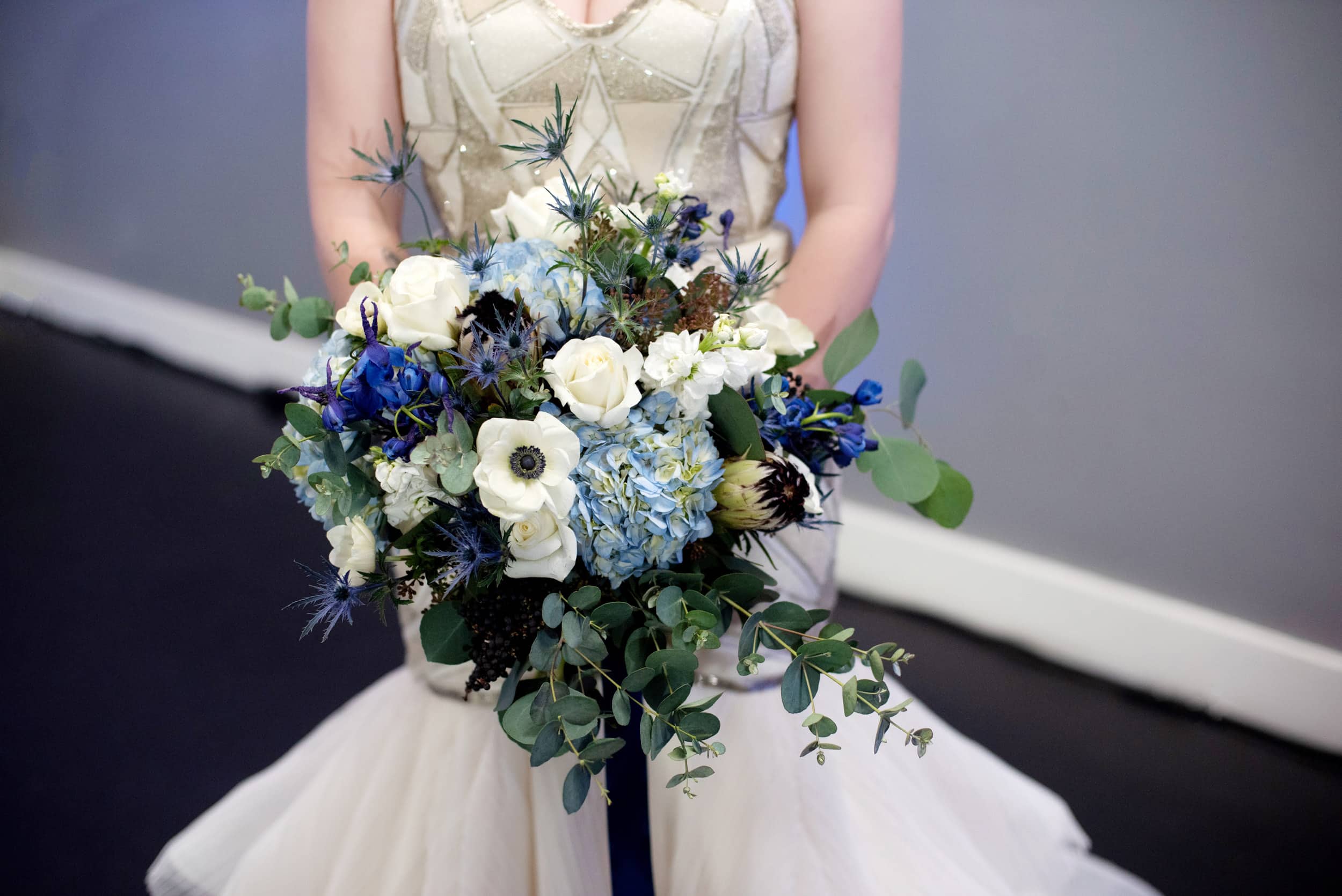 There were so many magical elements to this celestial shoot. Our bride models were married in real life, which I believe makes for the best wedding shoot when the models are authentically in love! Kristen donned a gorgeous metallic head crown fit for a goddess, and wore a stunning wedding gown designed by Hayley Paige, (a bridal designer who's recently been in the news for making masks for medical workers out of wedding dresses! See the story here.) The Hayley Paige "Yoko" gown was acquired from the Portland Bridal shop Brides For a Cause, and was a strapless, Ivory colored, fit to flare, mermaid style gown with a silver beaded bodice in geometric art deco designs, perfect for our celestial themed wedding shoot. April wore her own blue wedding suit, and hair and makeup on both brides were done by the talented Mandy Harlan of Glamology.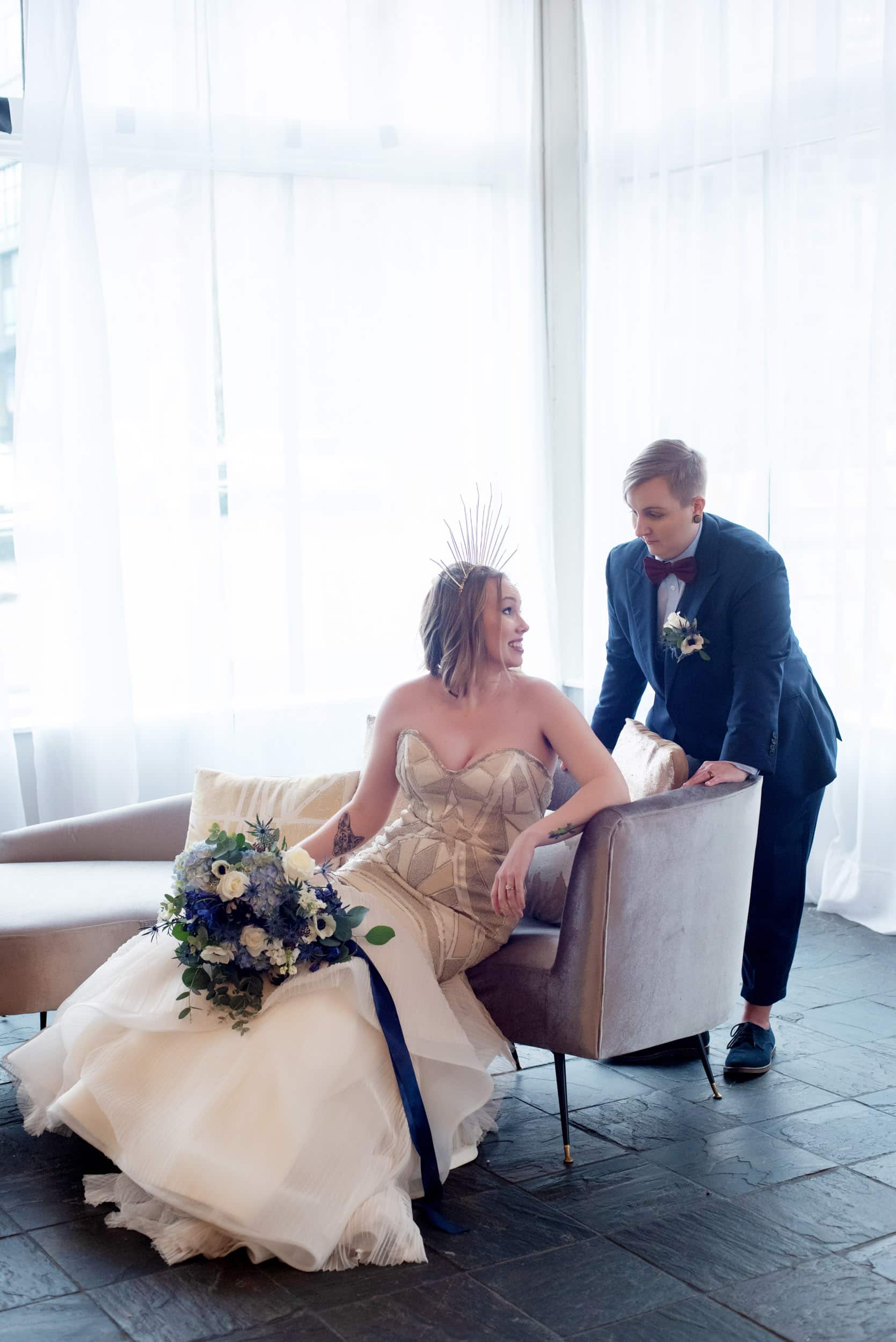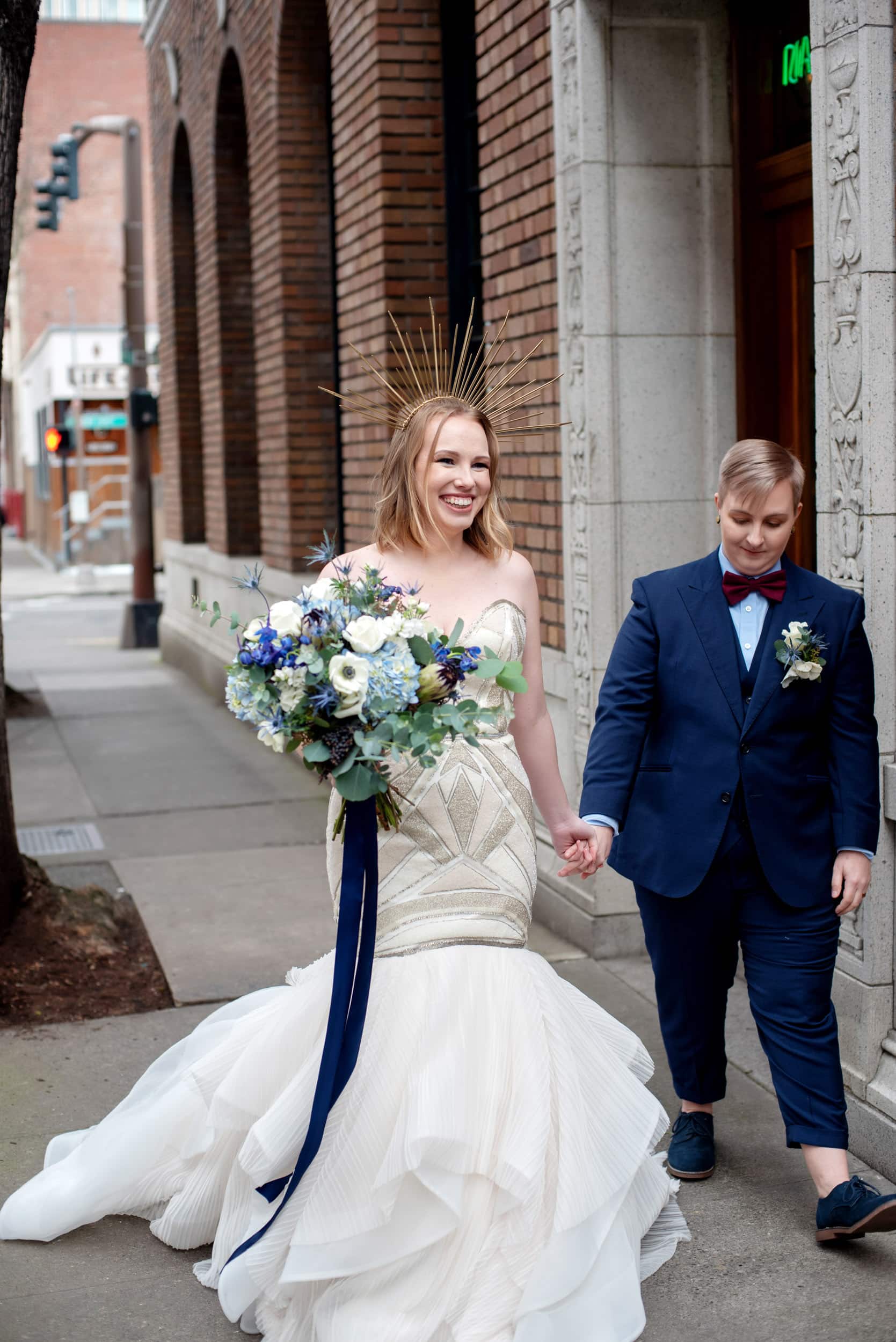 The extremely talented high-end wedding cake designer Catherine Sewell of Sewell Sweets designed a luxuriant, celestially painted, four-tiered blue wedding cake complete with an edible gold crescent moon and sun design. Catherine is known for her incredible artistic skills in creating realistic looking sugar flowers and painted cakes, and has been featured multiple times by Martha Stewart! Beneath the stellar cake, we added a wreath made of loose greenery plus crystals and stones by Forest Stone and Sea.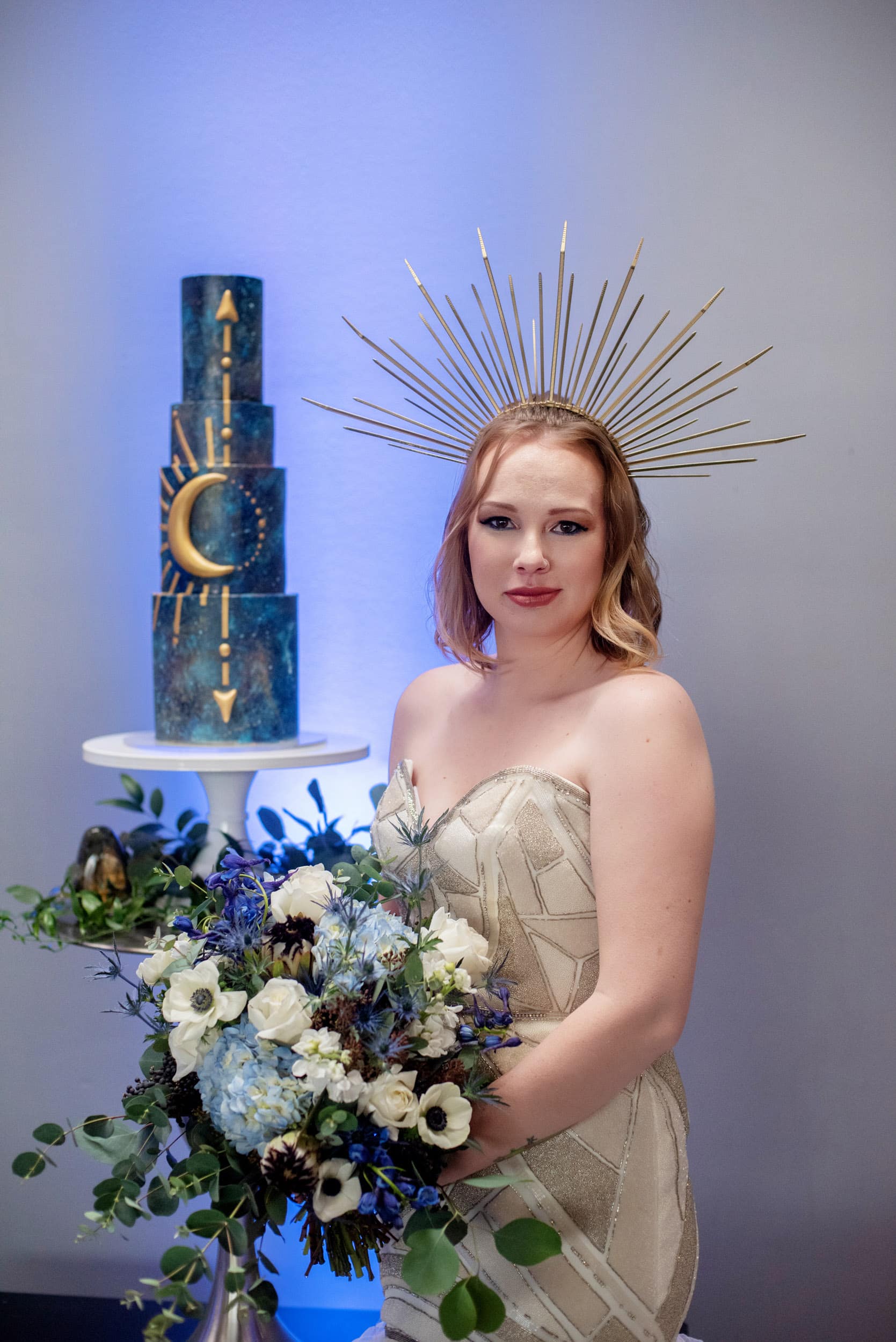 The wedding planner, Ashley of Alston Mayger Events styled an incredible reception tablescape complete with gold chargers, various metallic candle holders and geometric shapes, crystals from Forest Stone and Sea, gorgeous crystal drink ware, and stunning deep blue linens. Most of the tablescape rentals came from The Party Place. Atop each place setting were round, moon-like menus adorned with constellations, designed by Black Thistle Co. I can imagine the ethereal feelings that would be invoked by guests at an night wedding with these celestial elements.
Audiovisual production company, DThree Productions brought gorgeous lighting elements to the celestial styled shoot. They illuminated the walls with blue lights in several places, and cast fun, playful lights in star shapes down the aisle. How cool are the star lights on her dress?!!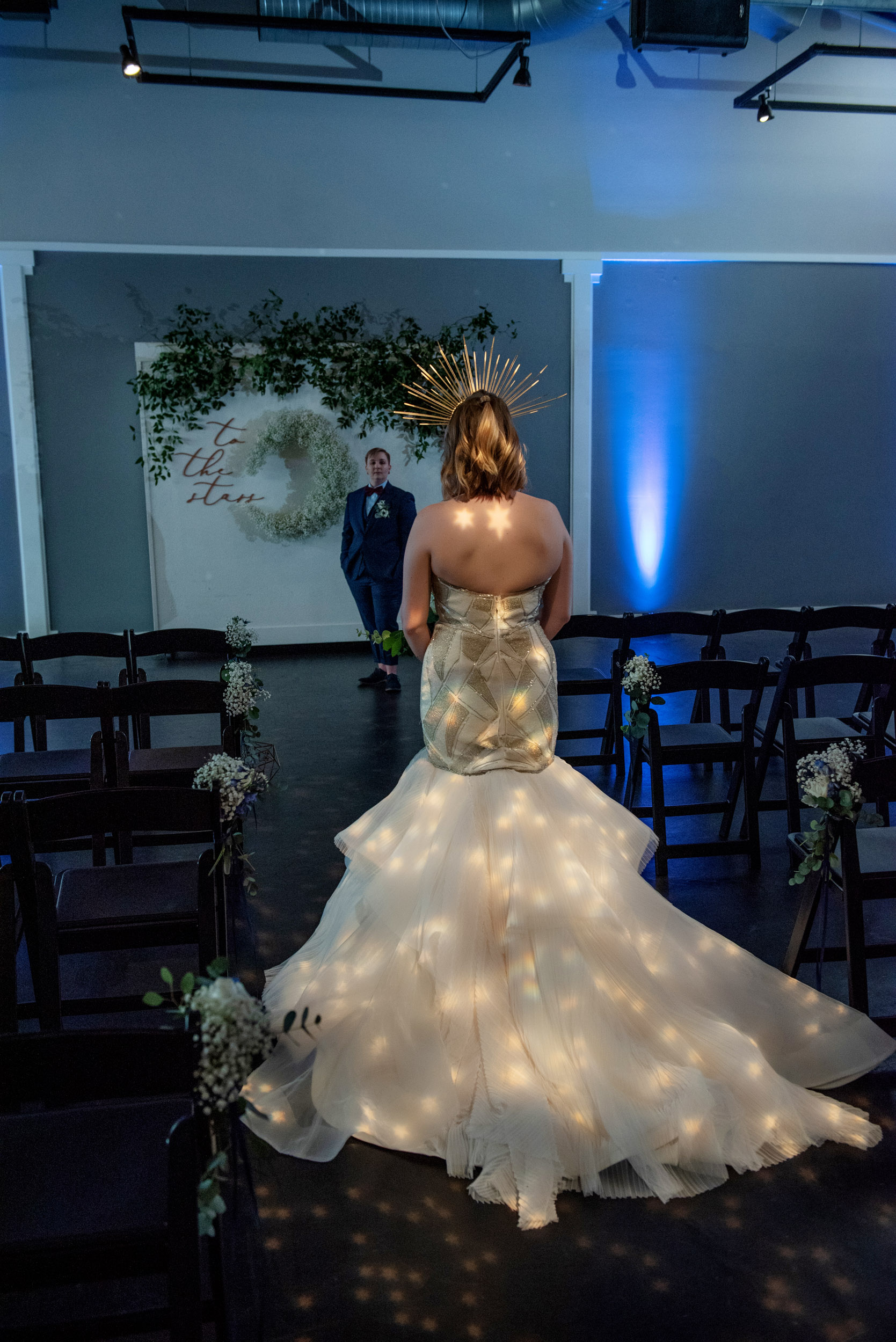 I'd love to know what you think of the Classic Blue Celestial Wedding ideas of this shoot! Comment below this blog or share comments on my Instagram or Facebook posts! Contact Flowers by Alana if you're interested in a virtual wedding flower consultation to discuss your 2020 or 2021 wedding flowers!
~Stay safe and healthy, flower lovers!
Love, Alana