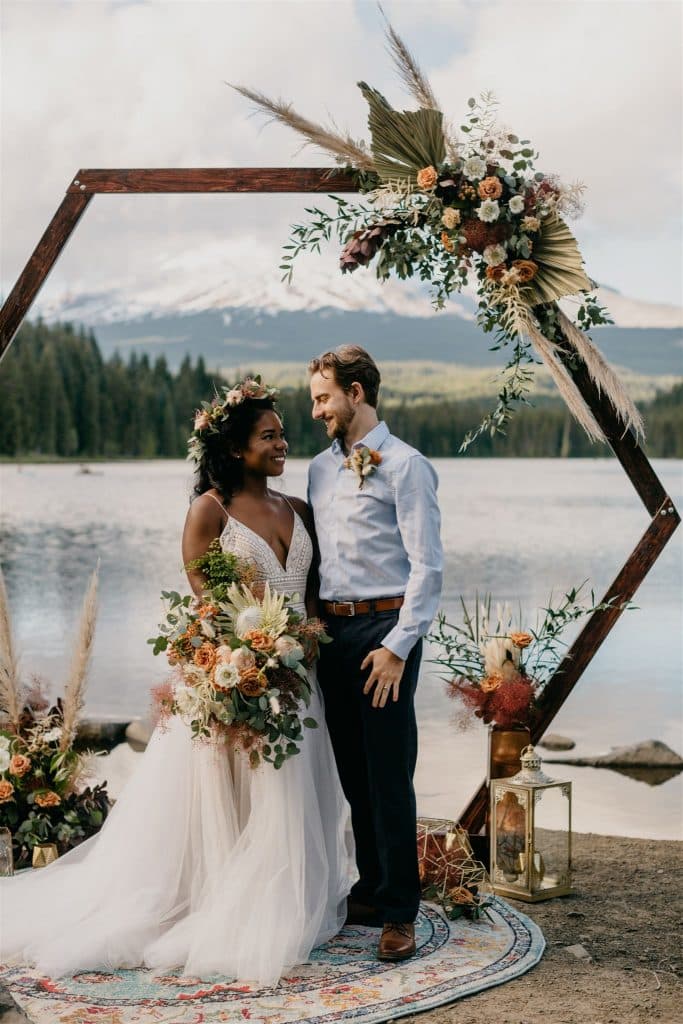 Prepare yourself for some serious eye candy with this one, friends! This boho elopement styled shoot at Trillium Lake on Mount Hood was seriously one of the most stunning events I've ever been a part of. Trillium Lake is an hour and a half drive from Portland and one of the many lakes on Mount Hood. There's a campground and a day use area, which includes a trail around the lake and a boat launch for non-power boats like canoes and kayaks. We set up on the west side of the lake which was easy to access by road and had the most stunning backdrop of the mountain. All around us were rich pine forests that made for lovely photo backdrops as well. Mount Hood hid behind clouds while we were setting up, but perfectly timed her debut as we were starting the shoot. Every detail of this shoot was so beautiful: the bride looked absolutely gorgeous, the rental decorations including a hexagon arbor were perfect, the cake was adorable, the mountain and lake, my flowers…. I'm still daydreaming over how pretty it all was!!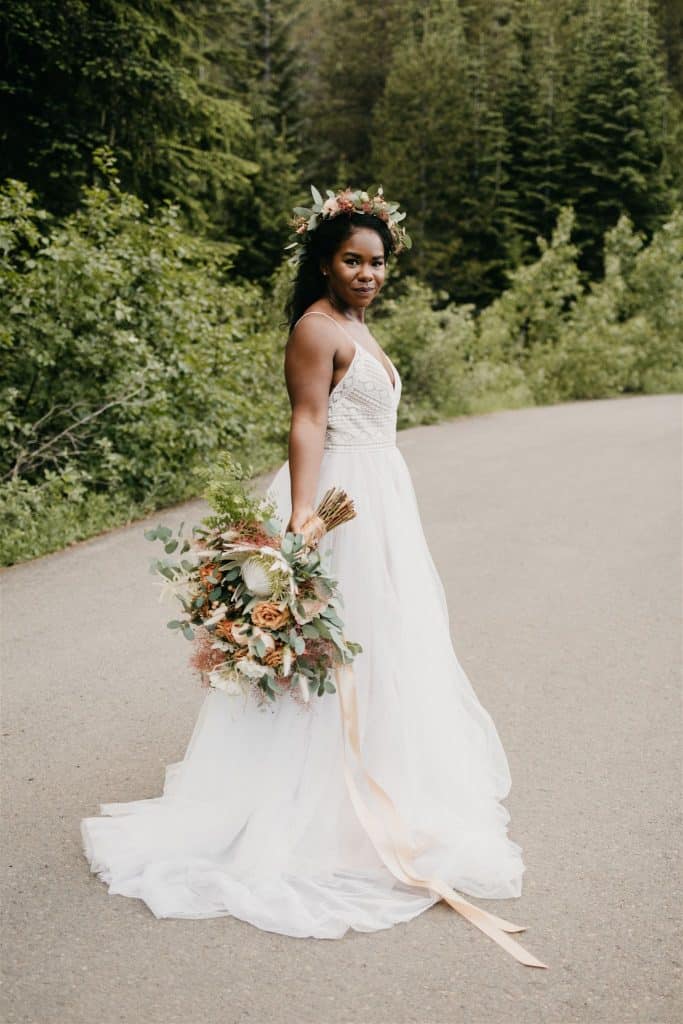 The styled shoot was initially envisioned by wedding photographer Rachel Brookstein. I was so honored to be asked to be a part of it for the flowers! I recommended she bring Krystle Allen of Krystle Clear Events on as the event coordinator because Krystle is incredible to work with and cohesively ties all the details together that make styled shoots (and of course weddings) run smoothly. She executed and styled the many details of the shoot with the help of PNW Weddings with Rachael, another wedding planner in the Portland area. Rachel Brookstein also brought on talented wedding photographer Marcela Pulido as an additional photographer for the shoot.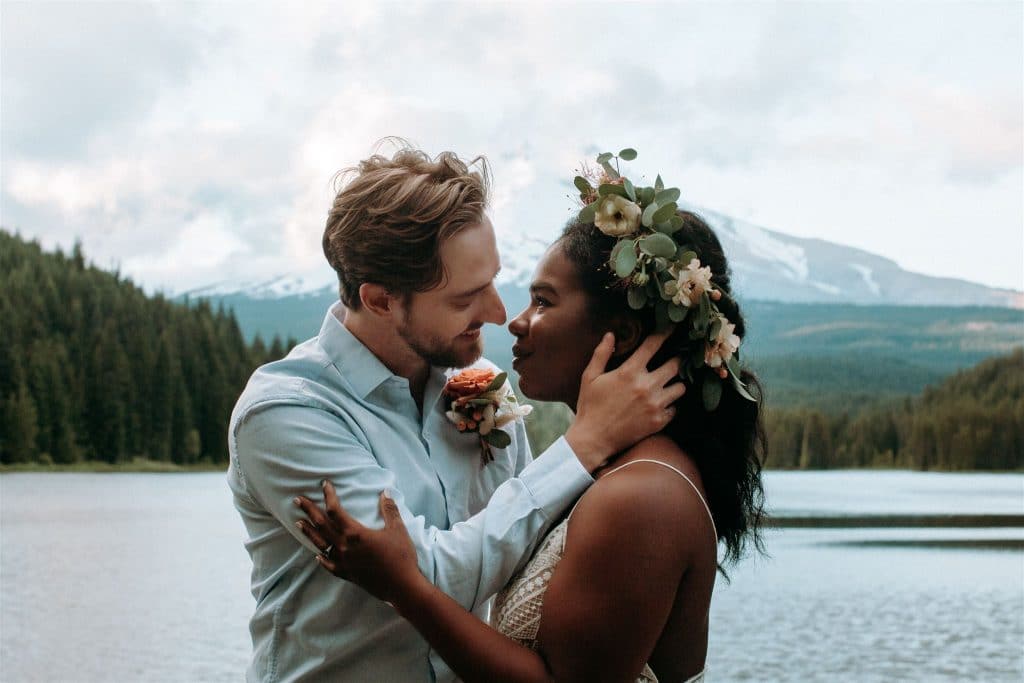 Our bride and groom models were Llanee and Andrew, a real couple who happen to be engaged and sadly had to postpone their 2020 wedding due to the covid pandemic. They were happy to be a part of the shoot and were so great to work with. Llanee's makeup was done by Megan Blake Beauty and her hair was done by Coreene Collins.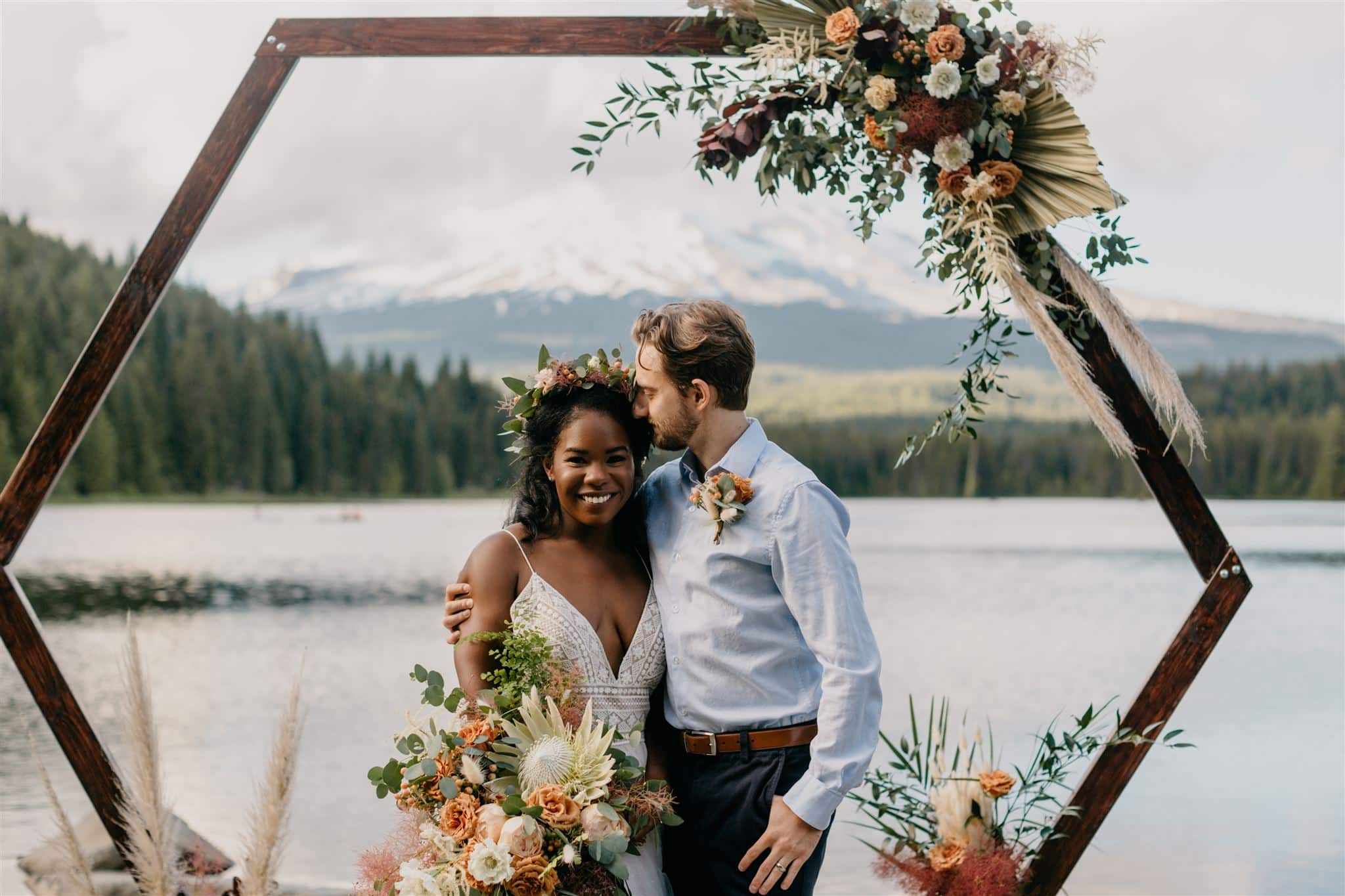 Power of Love Rentals provided the wooden hexagon arch that Krystle Allen and I worked together to assemble (its extra fun when you get to use power tools on site!) Power of Love Rentals also provided gorgeous lanterns, geometric gold terrariums in various shapes and sizes, a beautiful large rug that helped us stage the altar, a wooden dessert table, and a white and gold cake platter. On the hexagon arbor, I designed a boho style floral installation including dried palm fans, dried pampas grass, Italian ruscus, silver dollar eucalyptus, toffee roses, beige carnations, white scabiosa, hypericum berries, and smoke bush. Diagonal to the installation on top of the arbor, I also designed an additional arrangement on the ground and added pops of flowers and greenery throughout all the lanterns and terrariums.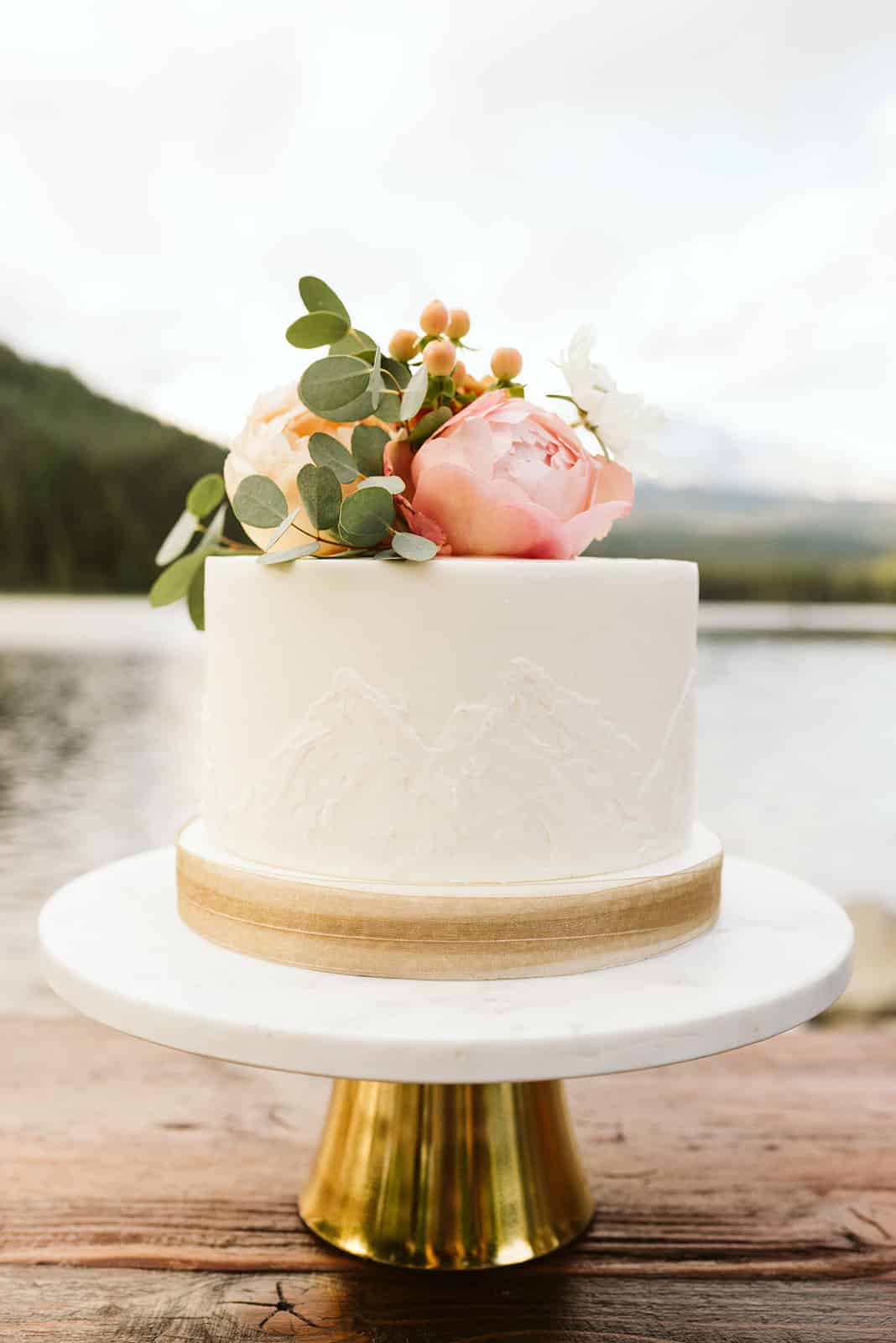 Sugarhouse Cake provided a single-tier white wedding cake with gorgeous mountain details on the frosting! The cake sat atop a riser wrapped in gold sheer ribbon and looked beautiful staged on Power of Love Rental's white and gold cake platter. I designed a floral cake topper with blush garden roses, pale peach hypericum berries, eucalyptus, and white scabiosa flowers.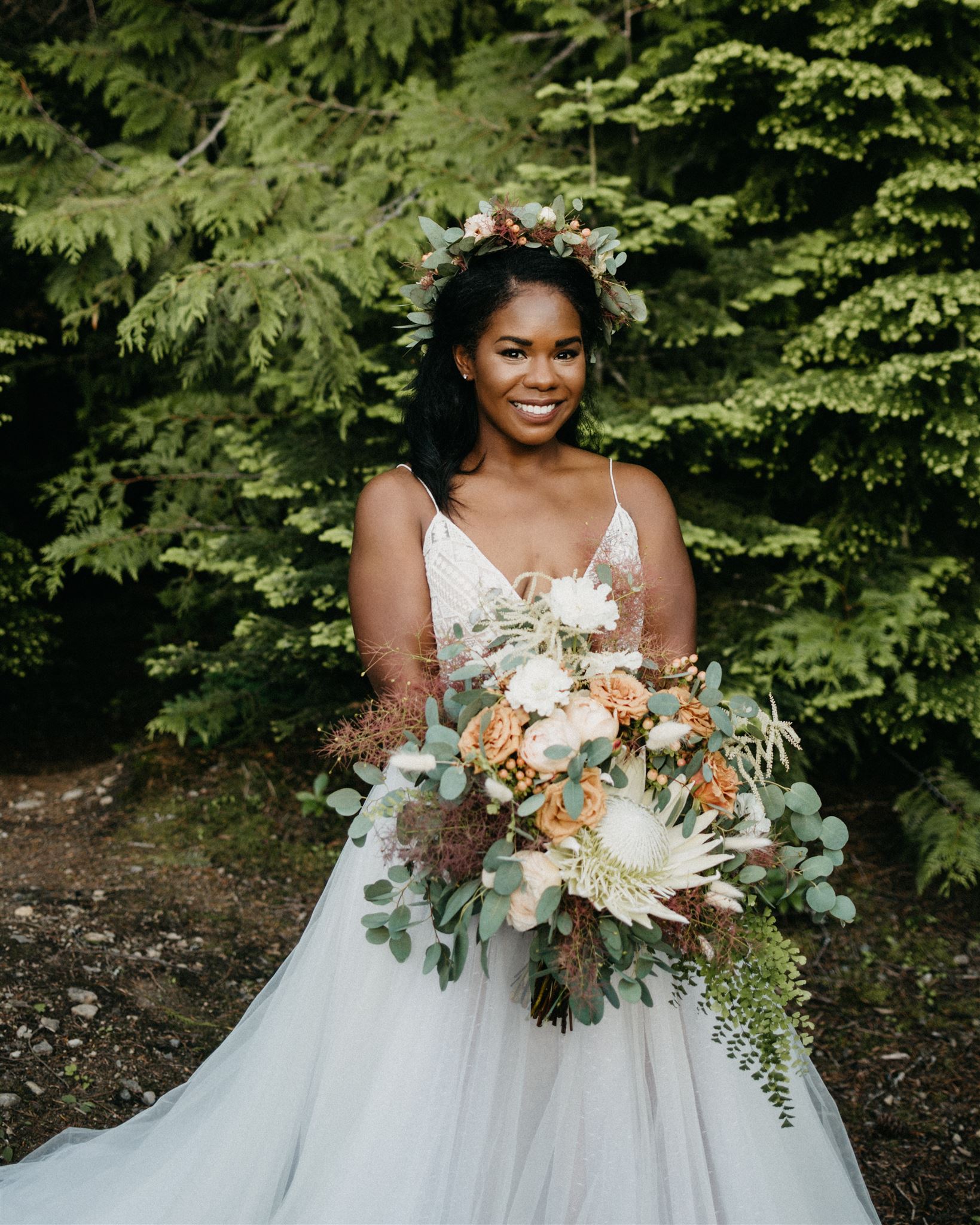 Llanee carried a boho style bridal bouquet in a dreamy palette of beige, champagne, cream, mauve, and greenery that included a lot of textures. I combined a large, white, king protea with beige "toffee" roses, blush cabbage roses, cream colored astilbe, peach hypericum berries, white scabiosas, cream colored dried bunny tails, mauve colored smoke bush, eucalyptus, and maidenhair fern. I designed the bouquet to be large and majestic in presence (like a mountain) and synonymous to boho weddings.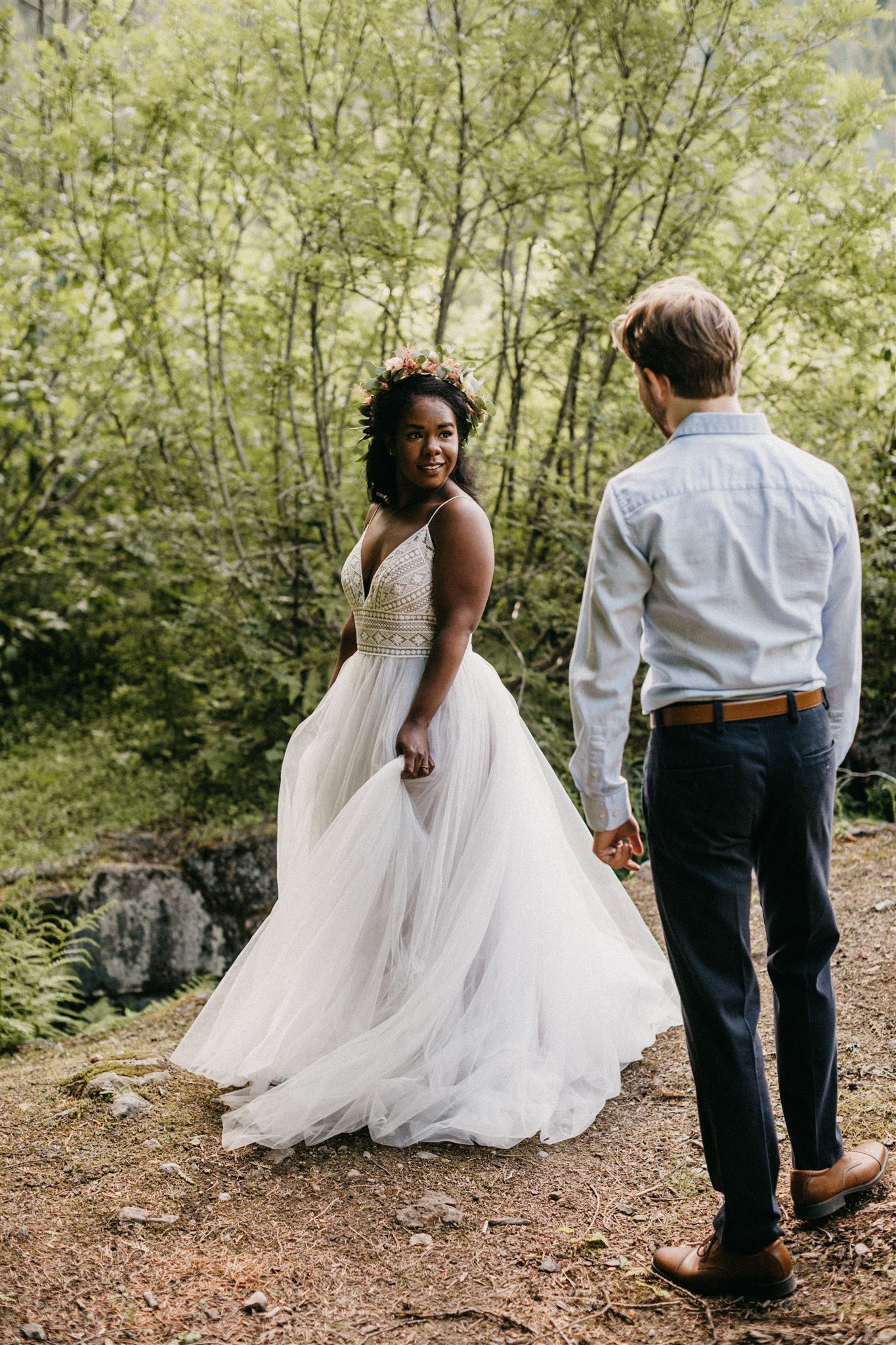 Provided by Anna's Bridal, Llanee wore a Willowby by Watters wedding gown called Thistle, which features a Chiara lace bodice in geometric patterns, an elegant ivory tulle skirt with a bronze lining, a V-neck neckline and delicate spaghetti straps. Llanee also wore a fresh flower crown I designed with eucalyptus, hypericum berries, ranunculus, and smoke bush. She looked like she walked straight out of a fairy tale!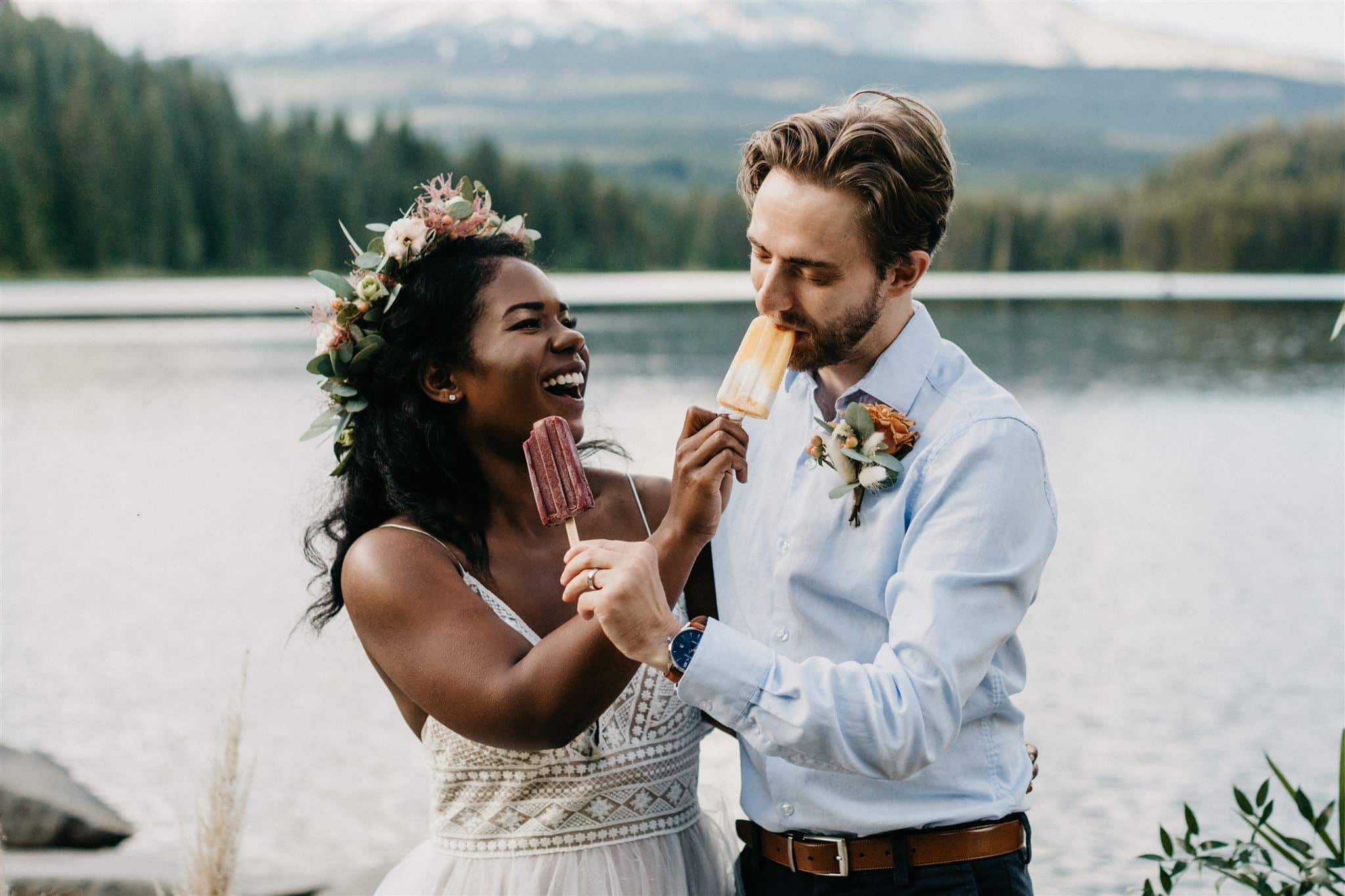 Besides the Sugarhouse cake, we had an additional dessert featured at our boho elopement styled shoot ~ Sloshy Pops! These popsicles are handcrafted with real fruit and liquor and made in Portland! They were a delicious and adorable addition to the shoot! The owner of the company brought the Sloshy Pops cart to Trillium Lake and we all got to try them — they are seriously so good! I definitely recommend hiring them for your next event, or any of these talented wedding professionals!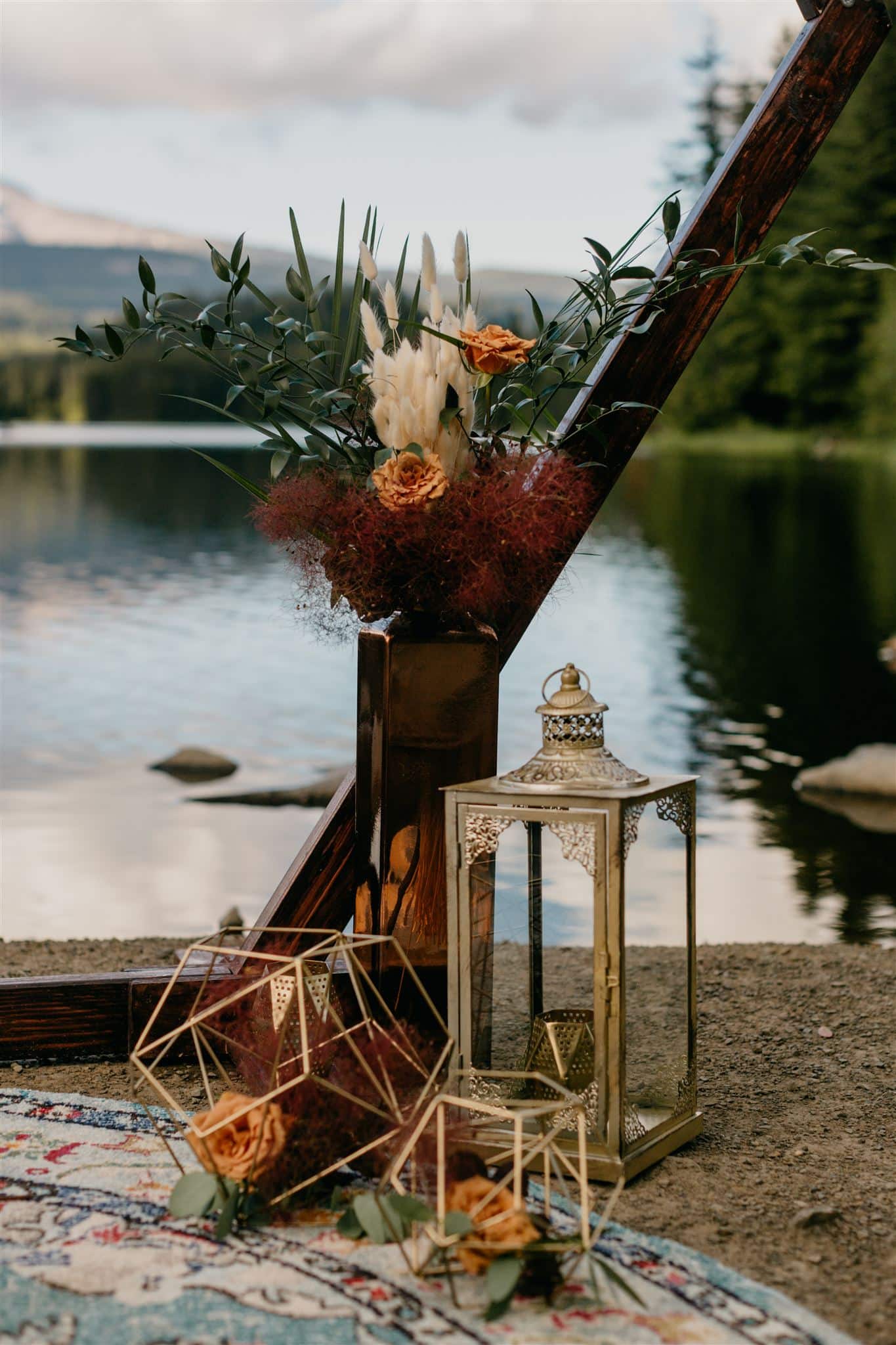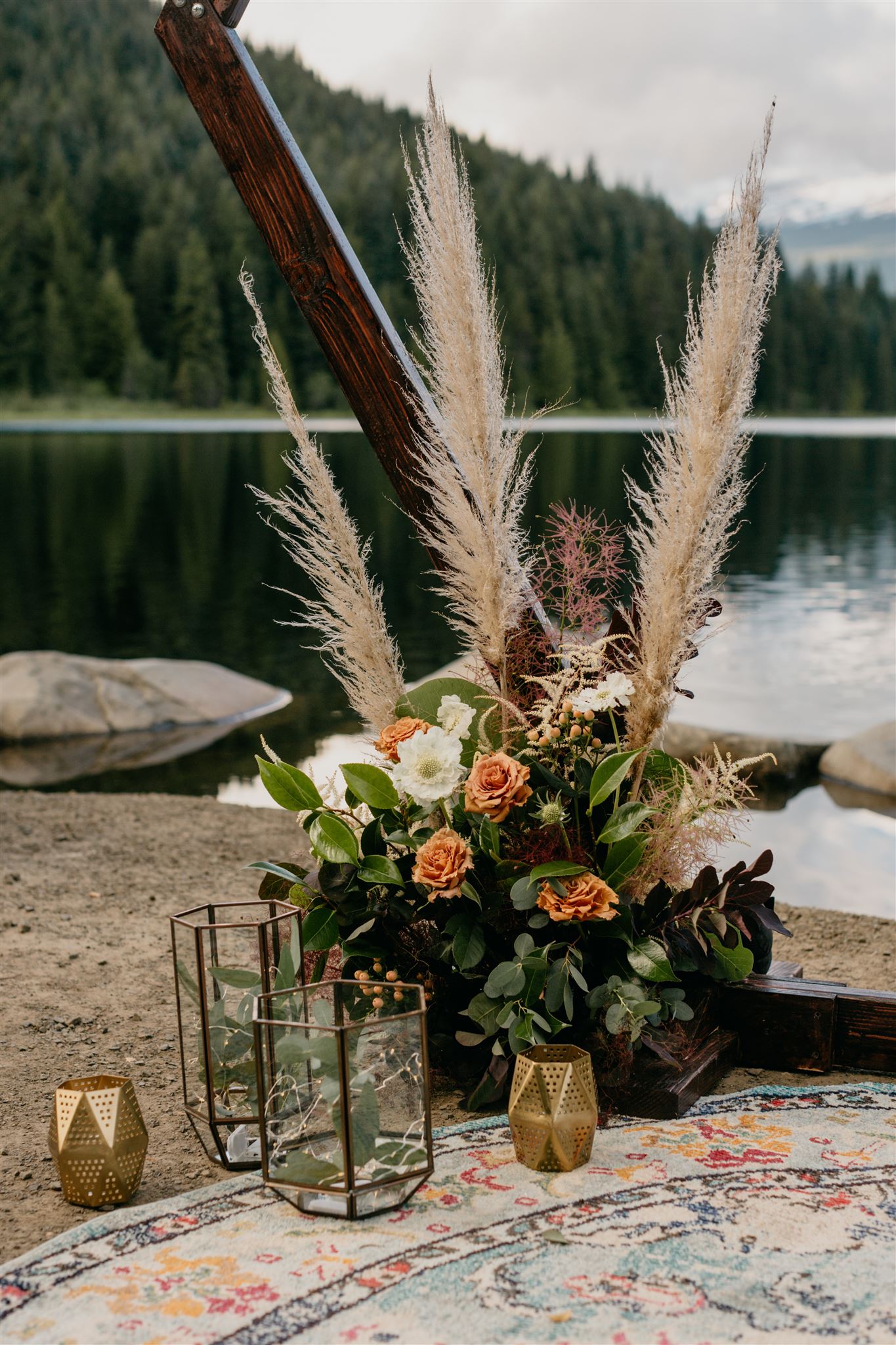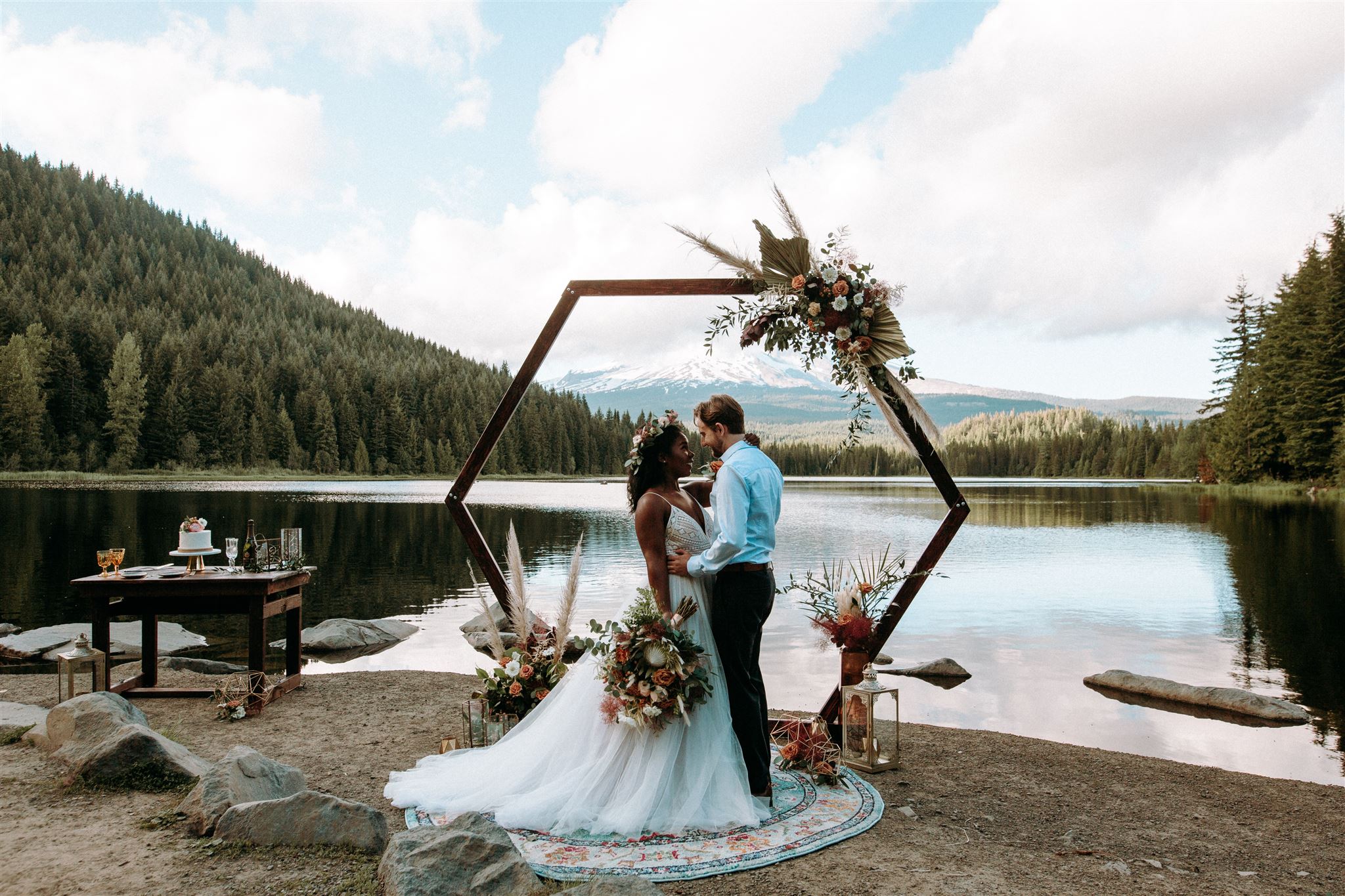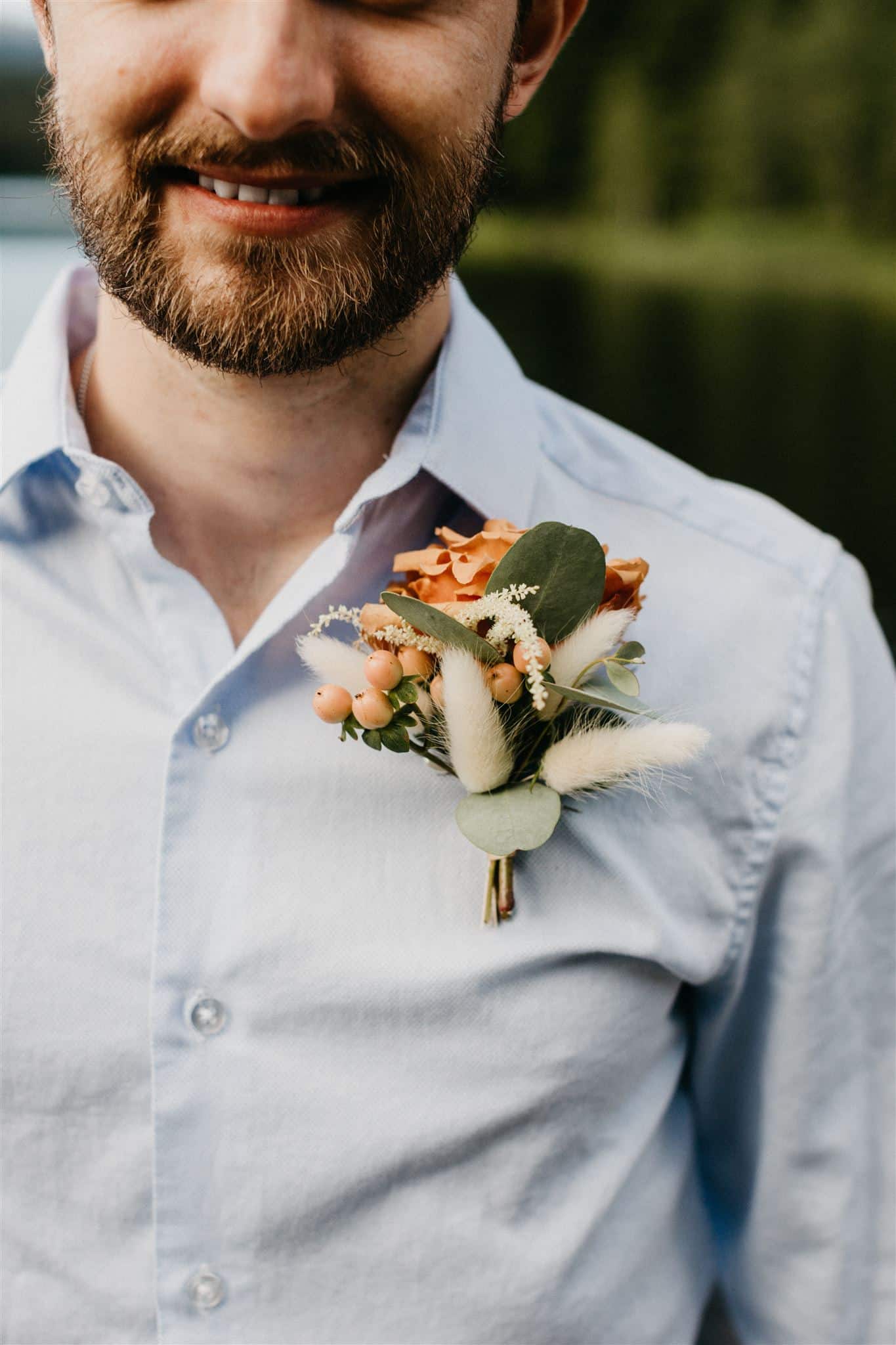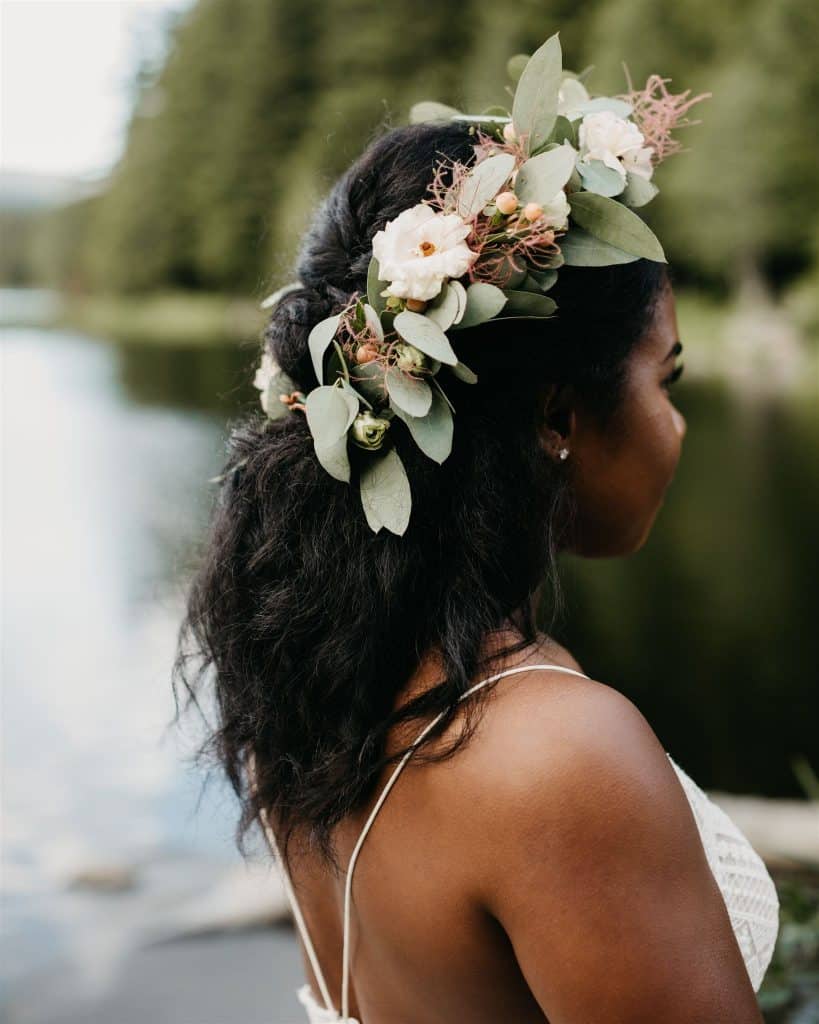 Follow the vendor team of the Trillium Lake elopement styled shoot on IG:
Photography: Rachel Brookstein and Marcela Pulido
Styling/Planning: Krystle Clear Events
Additional styling: PNW Weddings with Rachael
Floral Design: Flowers by Alana
Rentals: Power of Love Rentals
Wedding Cake: Sugarhouse Cakes
Bridal Shop: Anna's Bridal
Gown Designer: Willowby by Watters
Hair: Coreene Collins Hair
Makeup: Megan Blake Beauty
Popsicles: Sloshy Pops