Last spring, a dream team of talented wedding professionals from the Portland area collaborated on a modern minimalist wedding styled shoot at the Persimmon Country Club. Leading the vision and coordinating the vendor team was Oregon wedding planner Shannon Huffman of Periwinkle Events NW. Flowers by Alana was honored and excited to be the Portland wedding florist Shannon invited to collaborate for this absolutely stunning modern minimalist wedding styled shoot! There were three professional photographers capturing the photoshoot, Tyner Photography, Pure Vision Entertainment, and Seattle based wedding photographer Emett Joseph. All photos in this blog are exclusively by Tyner Photography.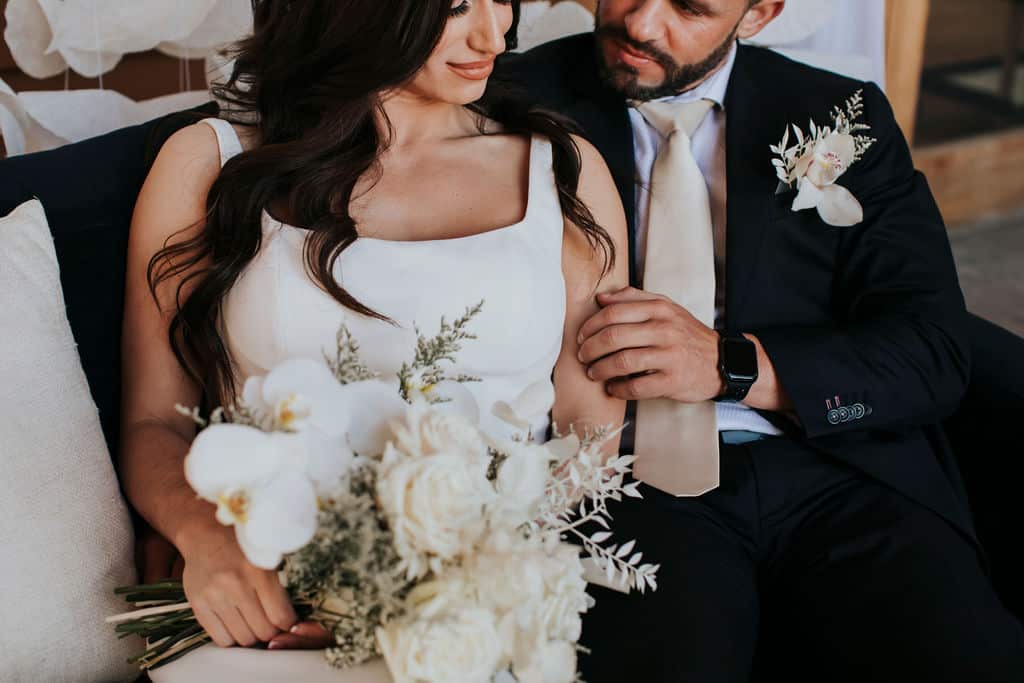 Cultivating the modern minimalist wedding style requires curating simple, clean, and sophisticated design details with intention. Minimalism in design is simple by nature, but not by lack of effort. A careful consideration and refinement of all details such as palette, materials, and all other design elements help bring the modern minimalist wedding style to life. A black and white palette with touches of champagne and beige was the perfect palette for the modern minimalist wedding photoshoot.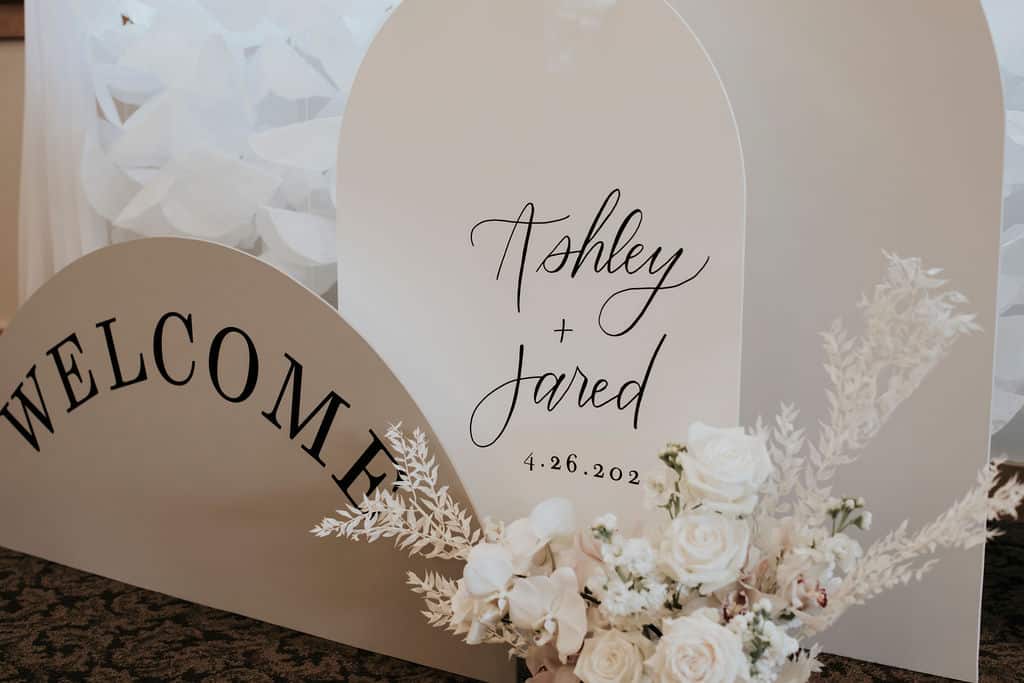 For this modern minimalist wedding photoshoot, Portland wedding florist Flowers by Alana selected high-end, luxury wedding flower varieties like creamy white playa blanca roses, stark white phalaenopsis orchids, and warm beige and blush pink cymbidium orchids. The specialty roses and exquisite orchids were paired with babies breath, white limonium (misty blue), white statice, and bleached and preserved Italian ruscus for texture and contrast. Taking place in the springtime, Flowers by Alana also incorporated white lilacs and very pale blush pink flowering cherry blossom branches into some of the florals, especially in the freestanding ceremony altar pillars. Styled shoots lend the opportunity for wedding florists and other professionals to showcase trends they wish to include more of in their portfolios. Without any greenery, an all-floral wedding flower design style was the design challenge Flowers by Alana chose for this modern minimalist wedding styled shoot.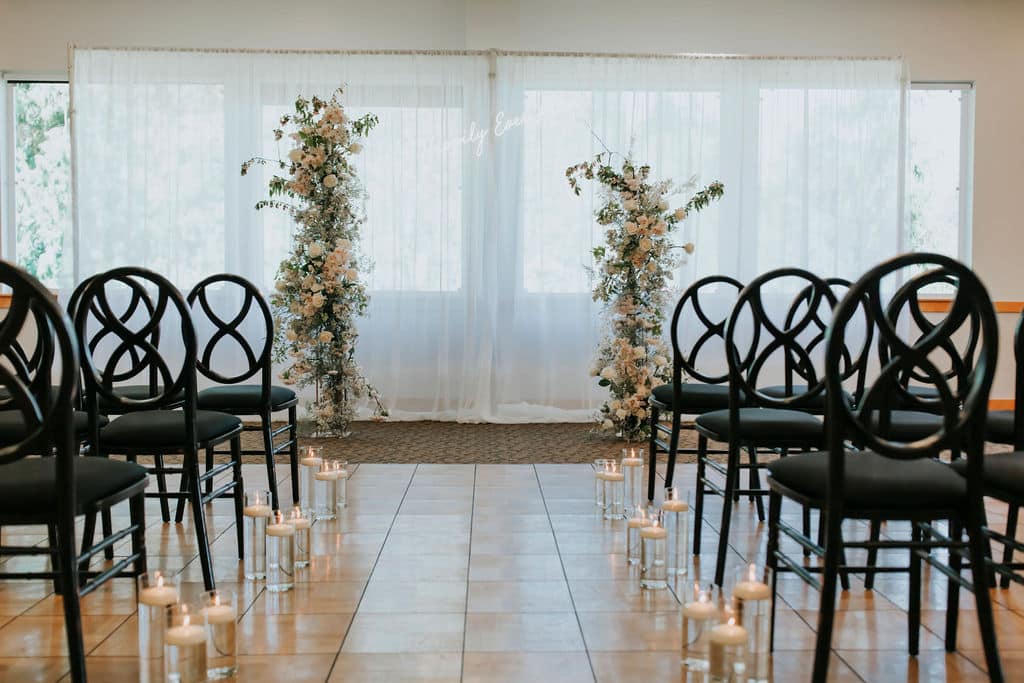 The styled shoot was unique in that our bride and groom models, Jared and Ashley Berglund are actually wedding professionals themselves! Ashley runs the talented hair and makeup company Style Me Pdx, and Jared is a talented wedding DJ who runs the wedding and event company Pure Vision Entertainment. Besides wedding DJ and MC services, Pure Vison Entertainment also offers photography, audio/visual, videography, photobooth, and more! For this shoot, Pure Vision Entertainment showcased their many offerings including videography, dance music, lighting, photobooth, and cool dance floor visuals like fog and sparkler machines! These special touches brought the styled shoot to the next level of decadence, fun, and luxury (and will do the same for your wedding.)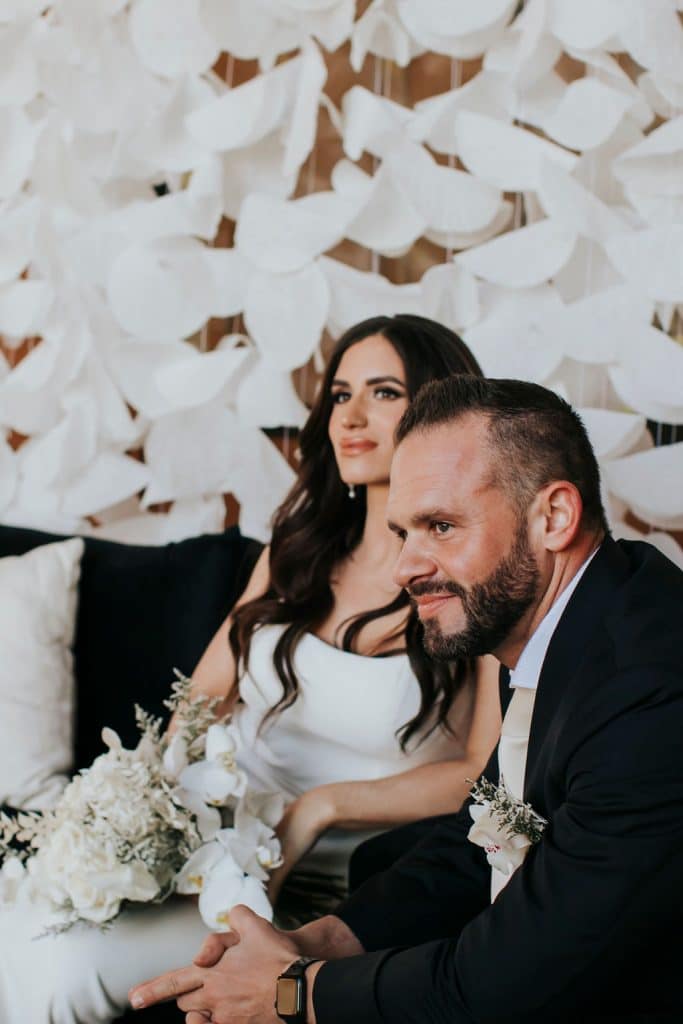 Our gorgeous bride model Ashley beautifully did her own hair and makeup to showcase her talent as a wedding hair and makeup artist. For the daytime portion of the modern minimalist wedding shoot, Ashley wore a stunning creamy white sleeveless long bridal gown from Ania Bridal, a woman-owned bridal shop in downtown Portland. Halfway through the shoot, Ashley switched to wear a playful miniskirt dress with sheer sleeves altered by wedding gown alteration seamstress This Modern Cottage.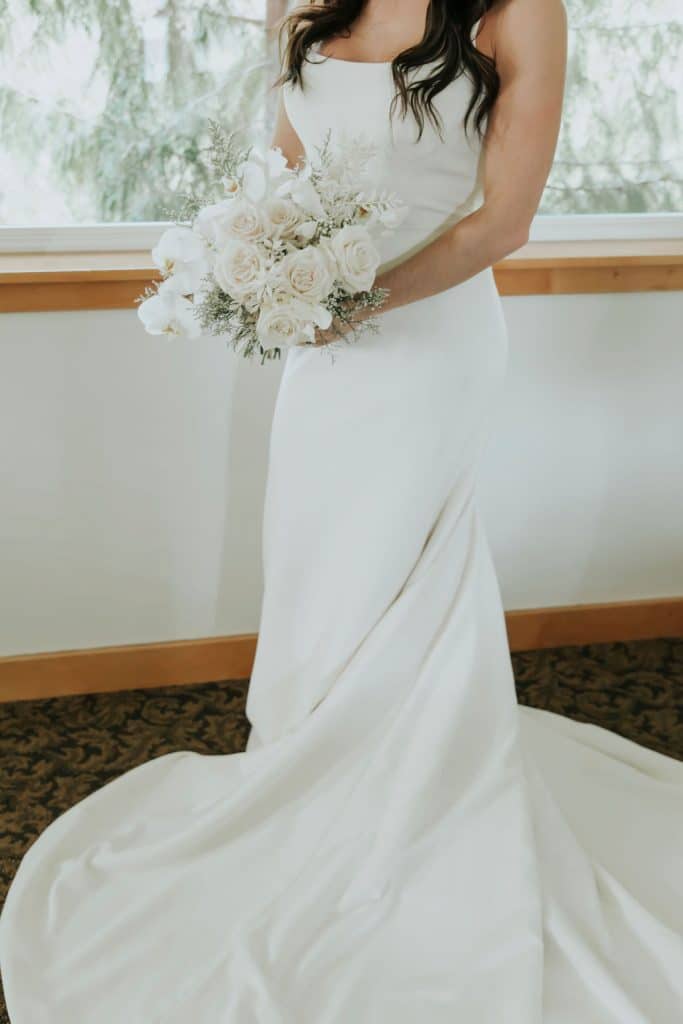 Persimmon Country Club is located in Gresham, just east of Portland, Oregon. The main hall of Persimmon's has a covered balcony with expansive views of the beautiful and lush greenery, wetlands, and rolling hills of the golf course below. The hall itself is plain and lends itself as a blank canvas for bringing in the design elements of different décor styles. In this modern minimalist wedding styled shoot, Shannon of Periwinkle Events staged different areas and showcased many talented Oregon wedding professionals.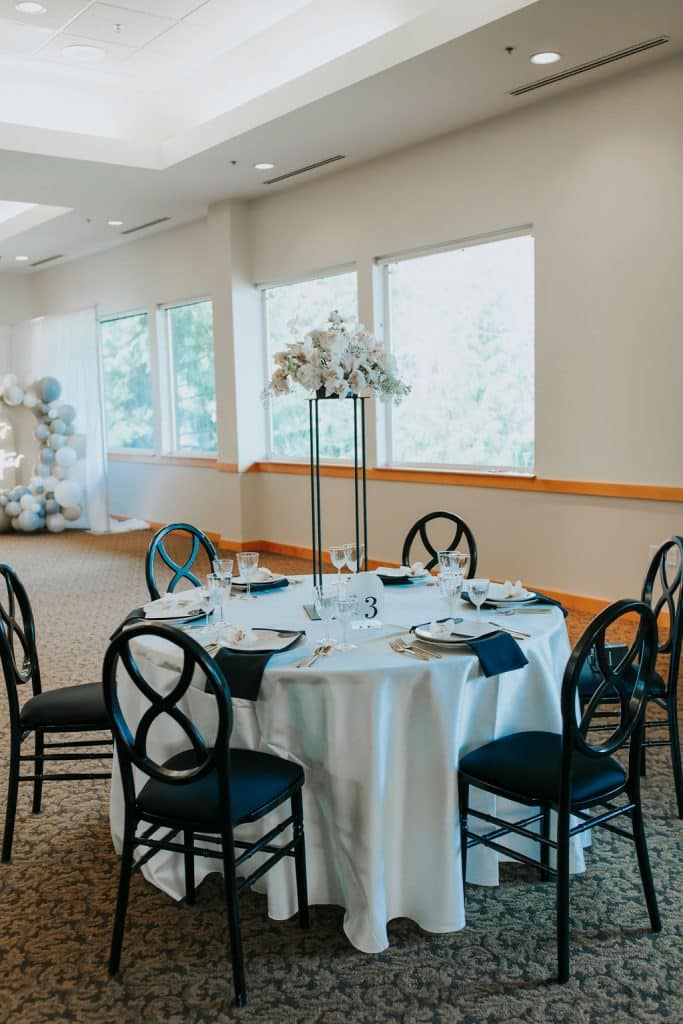 An indoor ceremony space was set up with black chairs, an aisle lined with hurricane cylinder vases and candles of various heights, pipe and drape backdrop that held a "Happily Ever After" neon sign by Mariglow Neon, and freestanding floral pillars as the altar installations designed by Flowers by Alana. Next to the ceremony space, a reception area with round tables donned white table linens and black napkins, elevated floral centerpieces atop jet black Harlow stands, white matte dinner plates, and crystal drinkware. Courting Calligraphy designed simple and elegant table numbers and menus on each plate setting, which also held a single cymbidium orchid bloom. The dinnerware and drinkware were from Setting the Table Rentals.
A dessert area was staged in the corner of the indoor ceremony and reception space that featured a balloon installation by Balloons on Broadway, a "Better Together" neon sign by Mariglow Neon, and cakes and desserts by Tres Belle Desserts on white concrete cylinder pillars. Michelle of Tres Belle Desserts designed two different style wedding cakes ~ a simple, white, one-tiered wedding cake that Flowers by Alana decorated with white and beige florals, and a white three-tiered cake embellished with edible paper pompoms handmade by Michelle. Michelle also made individual white chocolate mousse for each place setting, and gorgeous macarons that matched the warm beige color of the cymbidiums exactly! Tres Belle Desserts is wonderfully talented at designing gorgeous wedding desserts with incredible flavor and texture.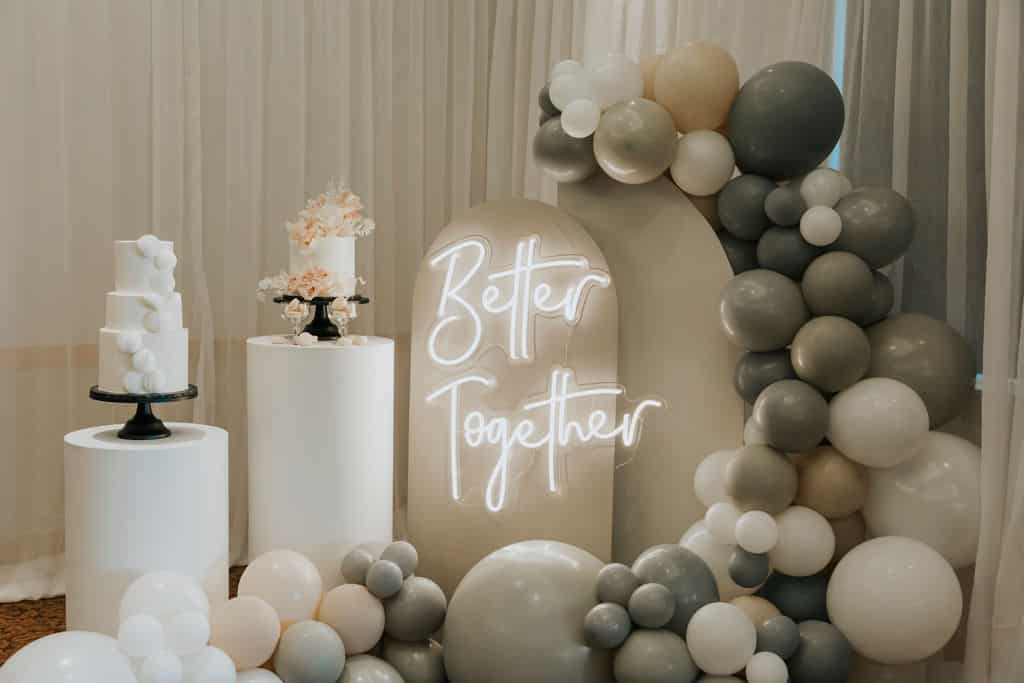 Wedding signs and all the paper stationery elements that beautifully captured the modern minimalist wedding style were designed by Courting Calligraphy. Courtney artfully designed trendy arch and half arch wedding signs, in addition to designing all the reception table numbers, menus, and a custom bar sign. Arch and half arch wedding signs are a fun trend that is the perfect touch for welcome guests at a modern minimalist wedding. At the base of the arch signs, Flowers by Alana designed a floral focal arrangement primarily in playa blanca roses, cymbidium and phalaenopsis orchids.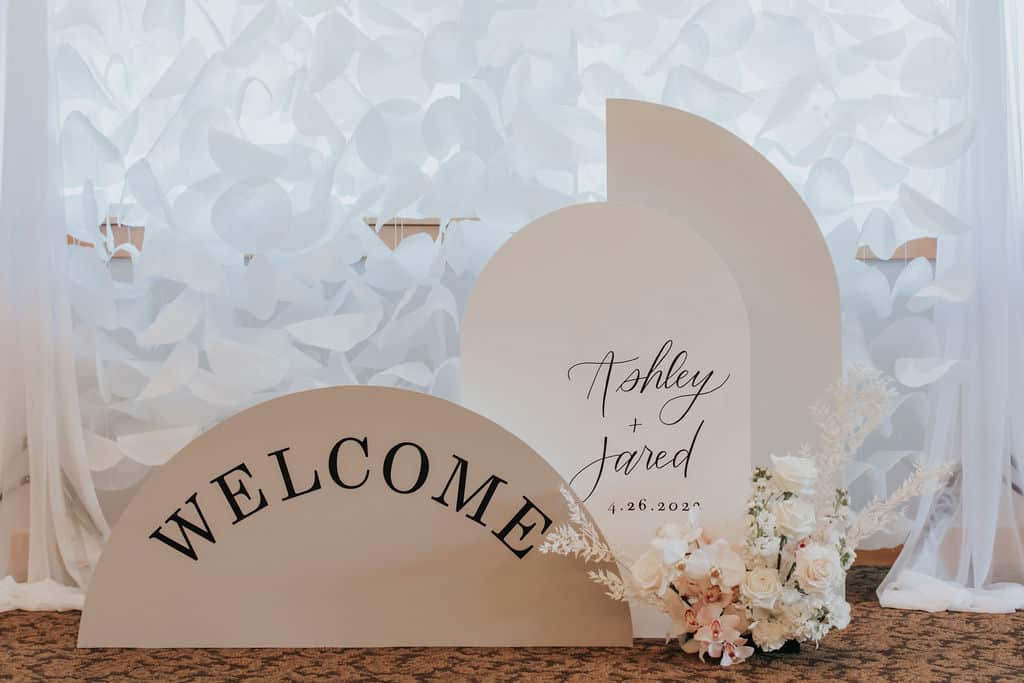 On the balcony outside the ceremony and reception hall, a bar rented by Party Place Pdx served custom cocktails and delicious boozy popsicles from local popsicle maker Sloshy Pops! A lounge area was also staged on the balcony with furniture rented by Great Jones NW. High bistro tables were topped with black linens and low profile wide glass vases with water, floating candles and orchid blooms. Beside the bar was a large black champagne wall supplied by Wonderwall Designs, which held individual champagne flutes each donned with personalized guest names inscribed by Courting Caligraphy, a neon "cheers" sign from Mariglow Neon, and an on-the-ground floral focal arrangement of playa blancas and orchids. Champagne walls are one of my favorite wedding trends, and I definitely recommend checking out Wonderwall Designs if your event is local to Portland!
This entire modern minimalist styled shoot was definitely a vibe! Having a wedding or event in the Pacific Northwest? I highly recommend all of these talented creative wedding professionals! Follow them on instagram below!
Dream team~
Venue/food/beverages – @persimmonccgresham
Planner/designer – @periwinkle_eventsnw
Photographers – @tyner.photography @emettjoseph
DJ/lighting/photobooth/photo/video – @purevisionentertainment
Bar/linens/chairs – @partyplacepdx
Lounge furniture/rug – @greatjonesnw
Signage/stationary @courtingcalligraphy
Desserts – @tresbelledesserts
Florist – @flowersbyalana
Balloons – @balloonsonbroadway
Dress – @aniabridal
Alterations – Reception Dress @thismoderncottage
Hair & Makeup – @style_me_pdx_bridal
Bride model – @style_me_pdx
Groom model – @pdxdjjared
Champagne wall – @champagnewallpdx
Boozy Popsicle – @sloshypops
Place Settings/flatware/glassware – @settingthetablerentals
Neon Signs – @mariglowneon
Pipe & drape/linens @cordial_events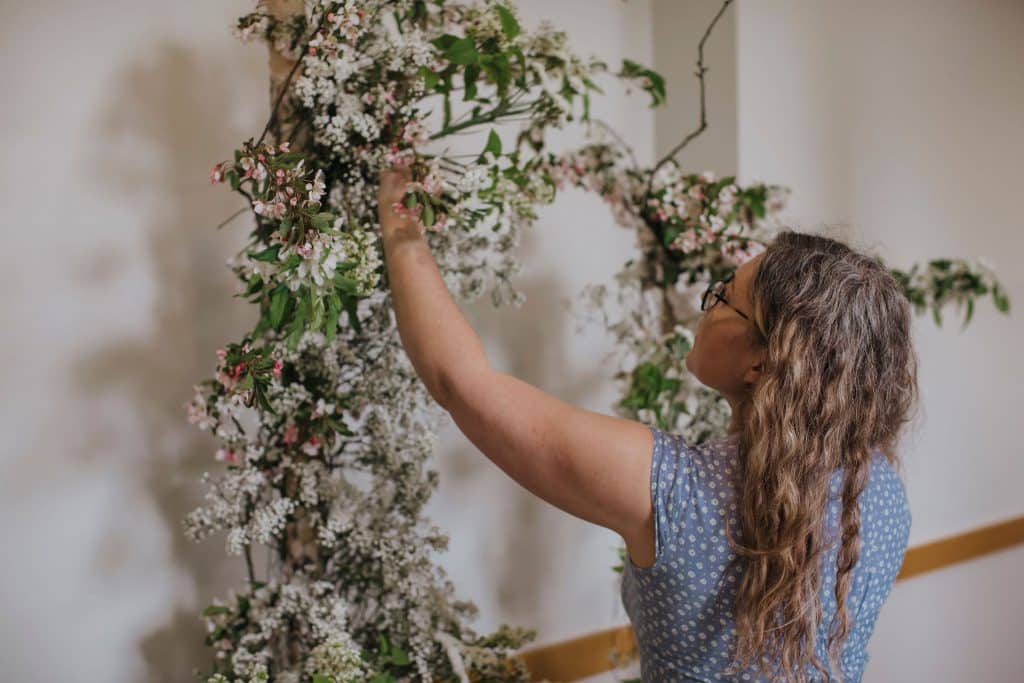 More photos of modern minimalist styled shoot!