When it comes to planning a wedding, few elements evoke the same level of enchantment and beauty as flowers. From bouquets that accompany the bride down the aisle to centerpieces that adorn reception tables, wedding flowers have a remarkable ability to transform any venue into a romantic wonderland. Join Portland wedding florist Flowers by Alana as they explore the captivating world of wedding flowers, from popular choices to meaningful symbolism, and discover how these delicate blooms can add an extra touch of magic to your special day.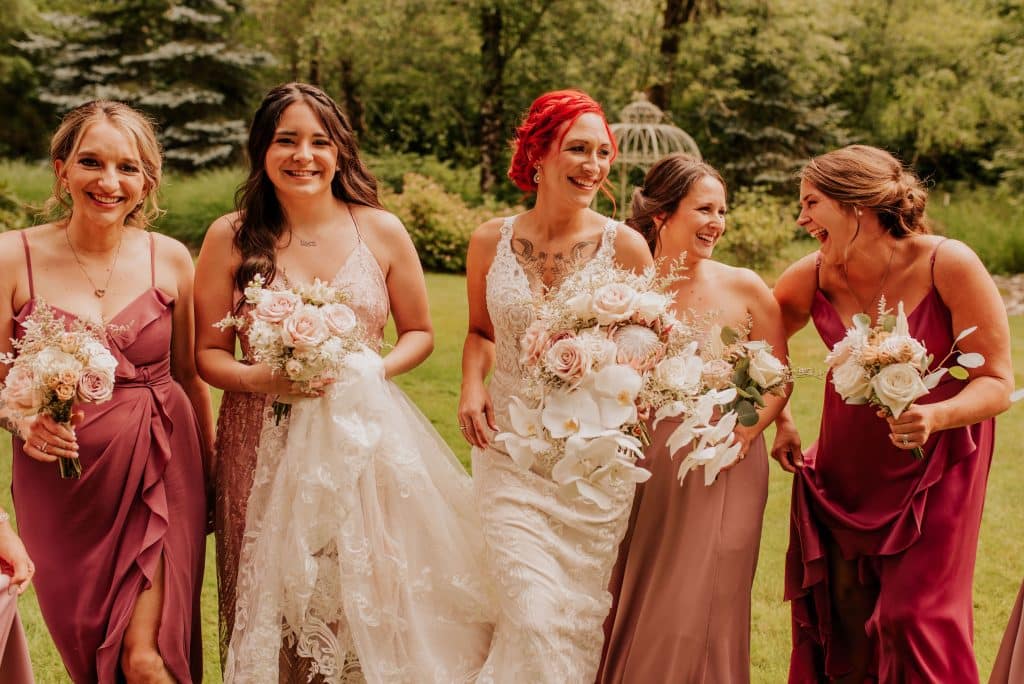 Choosing the Perfect Blooms:
Selecting the right flowers for your wedding involves a delightful blend of personal preference, seasonal availability, and overall theme. From classic roses and elegant orchids to whimsical peonies and rustic wildflowers, the options are vast. Take into consideration factors like color palettes, floral textures, and the overall ambiance you envision your wedding vibe to be. Consult with a professional florist like Flowers by Alana who can guide you in selecting the perfect combination of flowers that align with your vision and budget. Remember to be flexible and trust your florist to substitute when necessary. Depending on the season and popularity of the flowers, wedding florists often need to substitute to ensure quality and bring the overall vibe to life.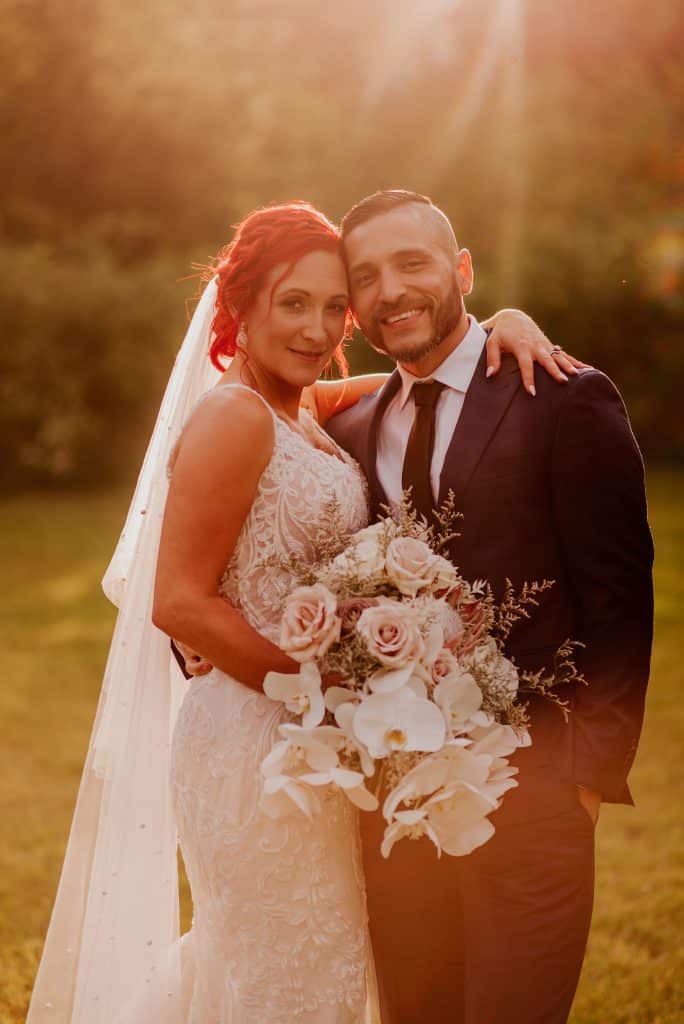 2. Symbolism and Meaning:
Flowers have long held symbolic meanings and incorporating them into your wedding flowers can add depth and sentiment to the celebration. For example, roses symbolize love and beauty, making them an eternal favorite for wedding bouquets. Delicate lilies embody purity and innocence, while orchids exude luxury, refinement and joy. Including blooms that hold personal significance to you and your partner can infuse your wedding with an added layer of emotional connection. Some brides and grooms remember a loved one they have lost by incorporating their favorite flowers in their wedding flowers.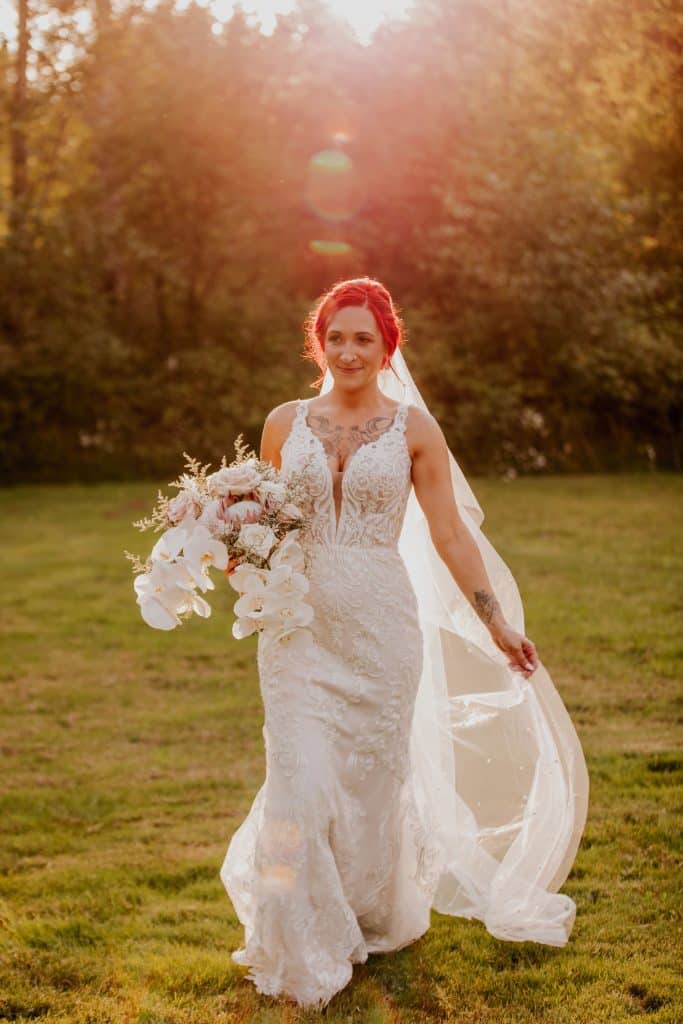 3. Bridal Bouquets:
The bridal bouquet is an inportant focal point that complements the bride's gown and reflects her unique style. Consider the shape, size, and color of your bouquet to harmonize with your dress and overall aesthetic. From cascading bouquets for a romantic feel to compact posies for a contemporary touch, the choices are endless. Don't forget to incorporate meaningful elements like family heirlooms or a locket with a photo of a loved one to make your bouquet even more special.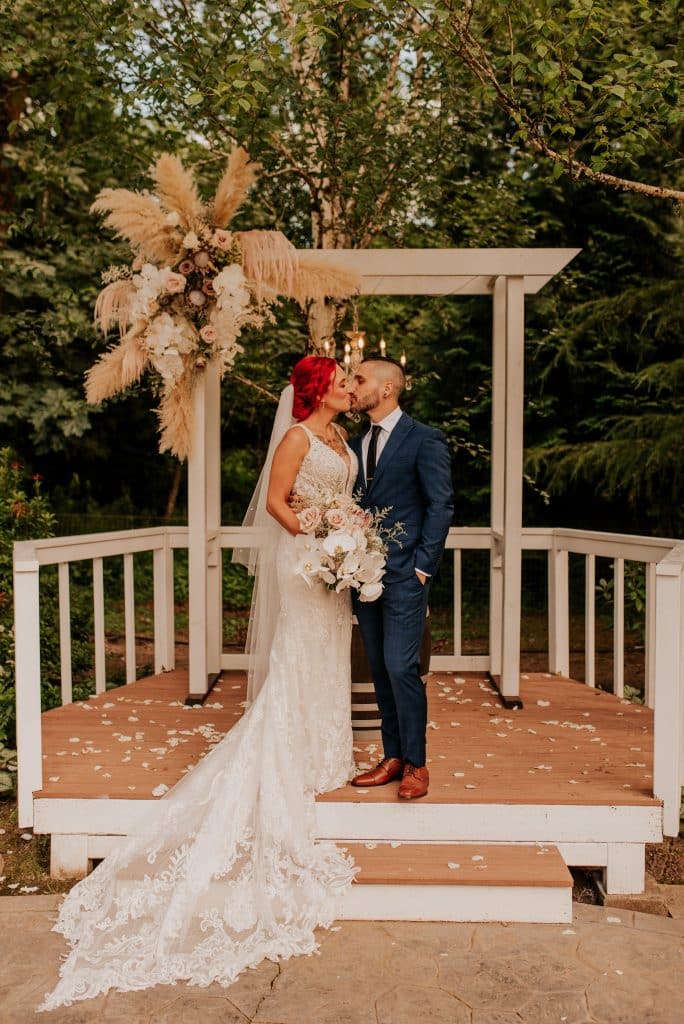 4. Ceremony Decor:
Transform your ceremony space into a blooming paradise with floral arrangements. Adorn the altar or arch with lush cascades of greenery and flowers that match your chosen color scheme or opt for no greenery and incorporate pampas grass plumes and other dried florals for a boho feel. Create a picturesque aisle by placing petals or floral arrangements along its edges. From hanging installations to floral chandeliers, let your florist's imagination soar as she creates the whimsical backdrop for your vows. Consider ways you can re-purpose your wedding flowers as well. Moveable arches, floral pillars, or ground floral nests can be relocated to decorate your sweetheart table look or other reception areas with gorgeous wedding flowers!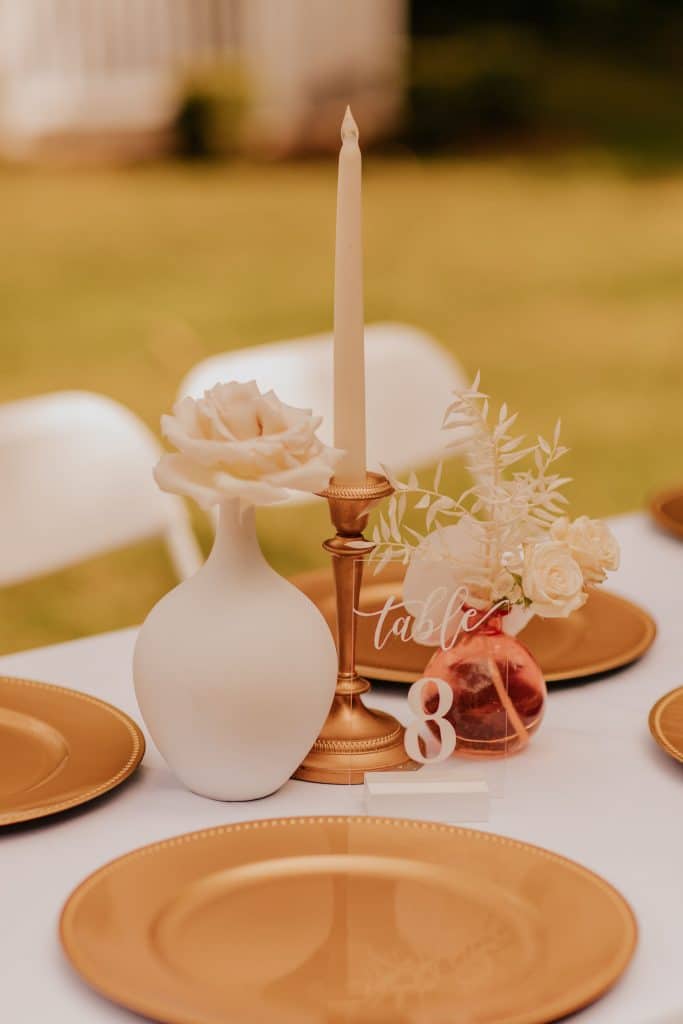 5. Reception Delights:
Once the ceremony is complete, carry the floral enchantment into your reception. Table centerpieces play a crucial role in setting the mood and overall vibe of the event. Opt for elevated arrangements that encourage conversation or low, sprawling designs for an intimate atmosphere. Consider the shape of your guest tables when deciding on centerpieces. Round tables have one focal area in the center of the table for a single centerpiece or a cluster of bud vases, but rectangle tables have the ability to showcase more than one centerpiece down the length of the table. Also consider the number of tables, and don't be afraid to mix and match more than one look for visual interest. Consider incorporating flowers into other elements like the wedding cake, chair adornments, or even the guest favors to tie everything together.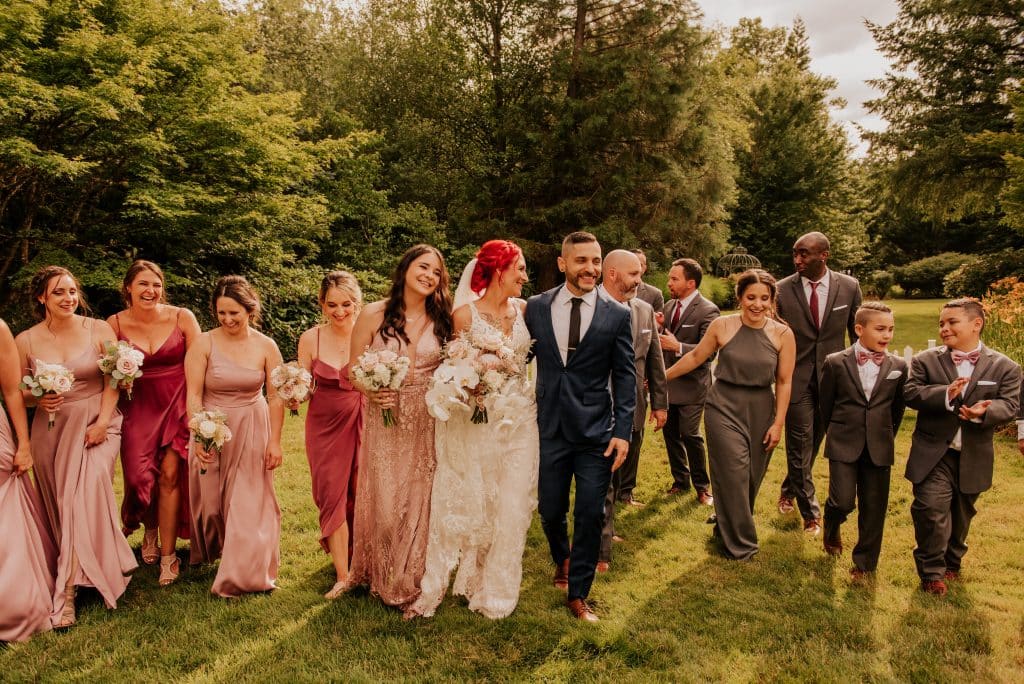 Wedding flowers possess a captivating power to elevate the ambiance and create a sense of wonder on your special day. They not only add beauty and elegance but also convey emotions and symbolism that make the occasion more meaningful. Whether you choose traditional blooms or venture into more unique and unconventional choices, the right combination of wedding flowers will surely leave a lasting impression on you, your loved ones, and all who attend. So, embrace the magic of these delicate blossoms and watch your wedding day bloom with breathtaking beauty.
BOHO GLAM WEDDING TEAM
Photo Baylee Dennis
Venue Creekside Estate
Floral Flowers by Alana
Planner Sapphire & Opal Events
Hair & Makeup Glam Beauty Bar
Cake Chandelier Bakery
Catering The Crowded Kitchen
Bar Barn Door Events
FOLLOW US ON INSTAGRAM!
Photo Baylee Dennis
Venue Creekside Estate
Floral Flowers by Alana
Planner Sapphire & Opal Events
Hair & Makeup Glam Beauty Bar
Cake Chandelier Bakery
Catering The Crowded Kitchen
Bar Barn Door Events