The Wedding on Wheels team is back for another fun elopement styled shoot, this time with an urban, hipster vibe featuring the star of the show, Aspynn~ a dark, forest green teardrop trailer owned by Oregon Teardrop Rentals. She is available to rent for your next northwest camping adventure, and is one of the three teardrop trailer options currently available for your Wedding on Wheels elopement package, where you can get a teardrop trailer, wedding flowers, wedding cake or desserts, and wedding photographer all delivered to your elopement or intimate wedding site!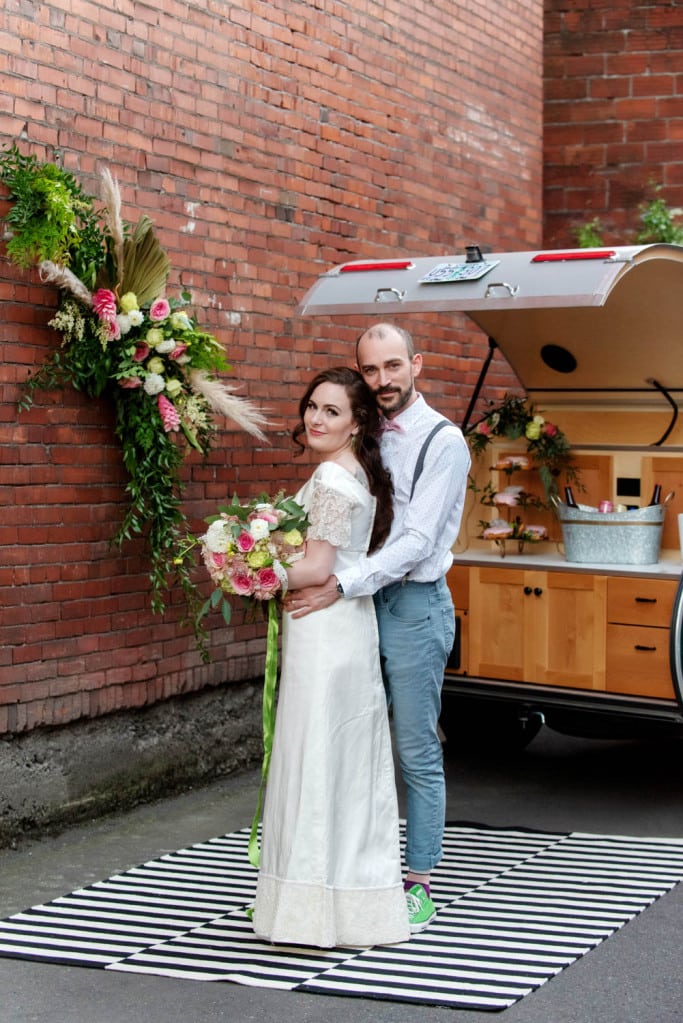 For a different vibe than the last outdoorsy Wedding on Wheels shoot, we chose an urban setting in industrial SE Portland with a private concrete parking lot cornered by two brick walls. Photography was done by Crystal Genes Photography, a talented wedding photography who also founded the NW Wedding Underground, a website that features an incredible collection of wedding vendors in the Pacific Northwest, through styled shoots and video interviews. View the Flowers by Alana video interview on NW Wedding Underground!
Bridal hair was done by Hair by Eira, and bridal makeup was done by Kerrin Birchenough. The bride model wore a vintage dress borrowed from the cool thrift store Shwop in the Sellwood neighborhood of SE Portland. Shwop isn't your average thrift store, its a really neat store where you have the option to join a membership and members can exchange (aka "shwop") out clothing items and accessories for any item in the store (non-members can also shop resale items at great prices! Shwop has a small but unique wedding dress selection and the charming owner, Marci can often tell you amazing stories about the wedding dress' original owner! Both the bride and groom models wore sneakers also borrowed from Shwop! Luck was on our side that they had almost brand new mint green Converse in the groom's size, that matched the shoot perfectly!
We partnered with Rogue to feature their canned cocktails that matched the shoot colors of pink and lime green. Rogue is a Portland-based beer brewing company that traditionally brews beer, but are now also crafting really delicious cocktails in cans with unique flavor combinations, like Cucumber Lime Gin Fizz and Cranberry Elderflower Vodka Soda, as well as CBD seltzer!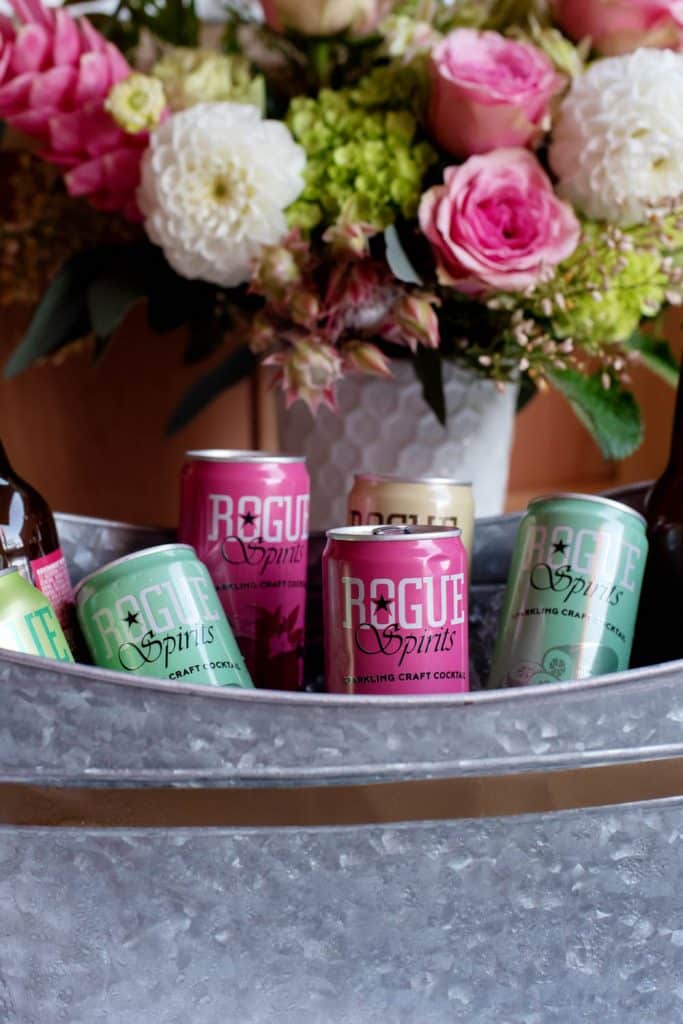 For this shoot, I designed a classic cluster bouquet in whites, lime greens, blush and bubblegum pink, using cafe au lait dahlias, white dahlias, pink roses, lime green roses, blushing bride protea, white veronica, lime green hydrangea, and seeded eucalyptus. The bouquet was tied with a long lime green ribbon from Joann Fabrics.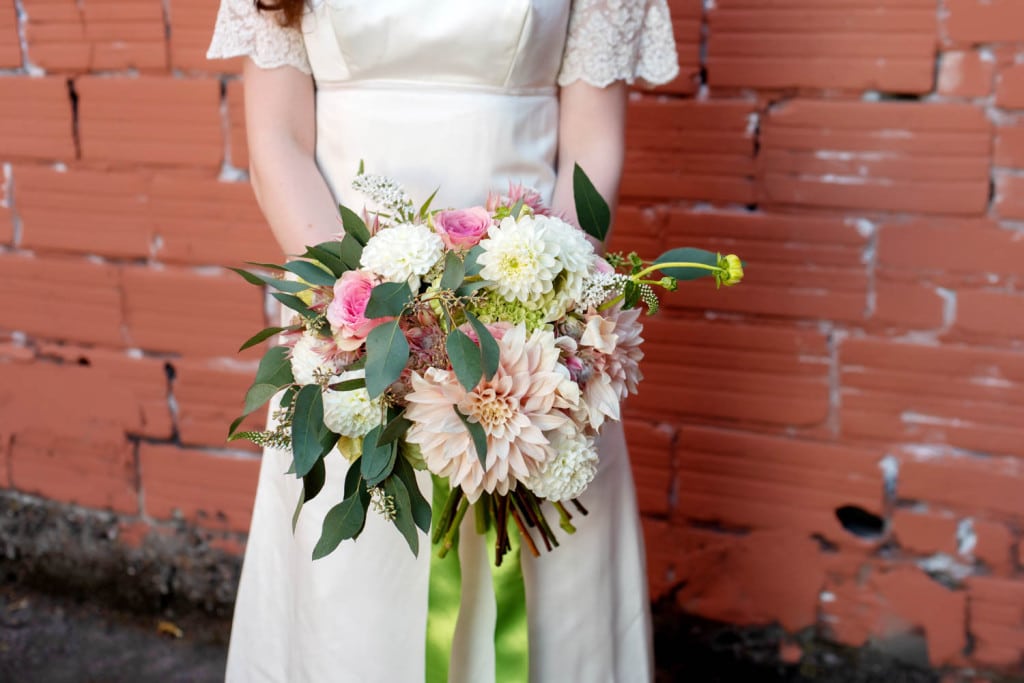 I decorated the dessert and drink area (the back of the teardrop trailer) with greenery and floral clusters, and created a floral installation on the brick wall to serve as our wedding altar. If you know me personally, you'll know that I thrive on personal challenges and creative endeavors. I had never done an installation on a brick wall, but I was up for the challenge and absolutely love how it turned out, although it was super windy during set-up and quite frustrating figuring out the mechanics of the install! (Pro tip: brick clips found at Lowe's Home Improvement stores are essential hardware for brick wall installations.)
It was so windy, a tree actually fell down in the alley that extended from the corner of our site, almost landing on the trailer! It was almost serendipitous, though because of how well it looked aesthetically with our shoot! We added fun accents to the shoot like a large black and white striped area rug and a white metal bistro table and chairs for the couple to cheers with their yummy canned cocktails and enjoy a donut together next to Aspynn.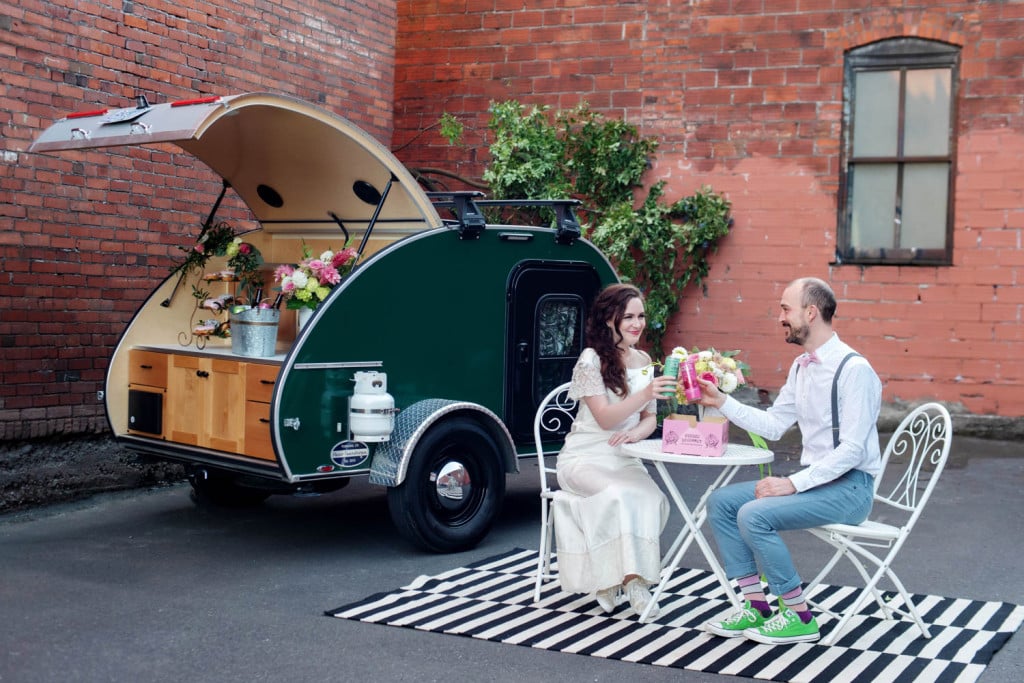 Wedding on Wheels Urban Hipster Elopement Credits:
Teardrop Trailers: Oregon Teardrop Rentals
Photography: Crystal Genes Photography
Florals: Flowers by Alana
Canned Cocktails: Rogue
Dress boutique: Shwop
Makeup: Kerrin Birchenough
Hair: Hair by Eira