Portland wedding florist Flowers by Alana was a part of several styled shoots this year and I'm thrilled to share that we were published SEVEN times!!!! With the Covid-19 pandemic slowing down the number weddings this year, there were several months where most of my already booked wedding clients had to postpone their events to a later date. I'm a creative at heart and can not go too long without designing, so I was thrilled to collaborate with other wedding professionals and put on wedding inspired photoshoots, otherwise known as "styled shoots." Styled shoots are a great opportunity for several reasons: they offer a way for wedding professionals to showcase their talent and build content for their portfolio and social media, they are great for networking and getting to know other wedding vendors, and they can serve as a way to be published by wedding magazines. Here's a list of all seven publishings:
The first time we were published this year was in the Portland area newspaper, the Oregonian, who did an online feature of our Wedding on Wheels styled shoot. Wedding on Wheels is an elopement idea for adventurous couples who love to camp and love the outdoors and are looking for an all inclusive elopement package! The Wedding on Wheels customizable package comes with wedding flowers, photography, champagne, cake, and the rental of a teardrop camper trailer, all delivered to your site of choice in the Pacific Northwest! Flowers by Alana is thrilled to partner with Oregon Teardrop Rentals, the owner of the adorable teardrop camper trailers and who initially had the idea for the Wedding on Wheels Elopement packages. The shoot was beautifully captured by talented wedding photographer Crystal Genes Photography, Also featured in the shoot was Anna's Bridal with a bridal gown by Rita Vinieris, a beautiful wedding cake by NW Confections, and bridal makeup artist Shelby Renee XOXO of Pins + Pines Artistry (who was also our gorgeous bride model with her beau Dylen.) Check out the Oregonian feature here.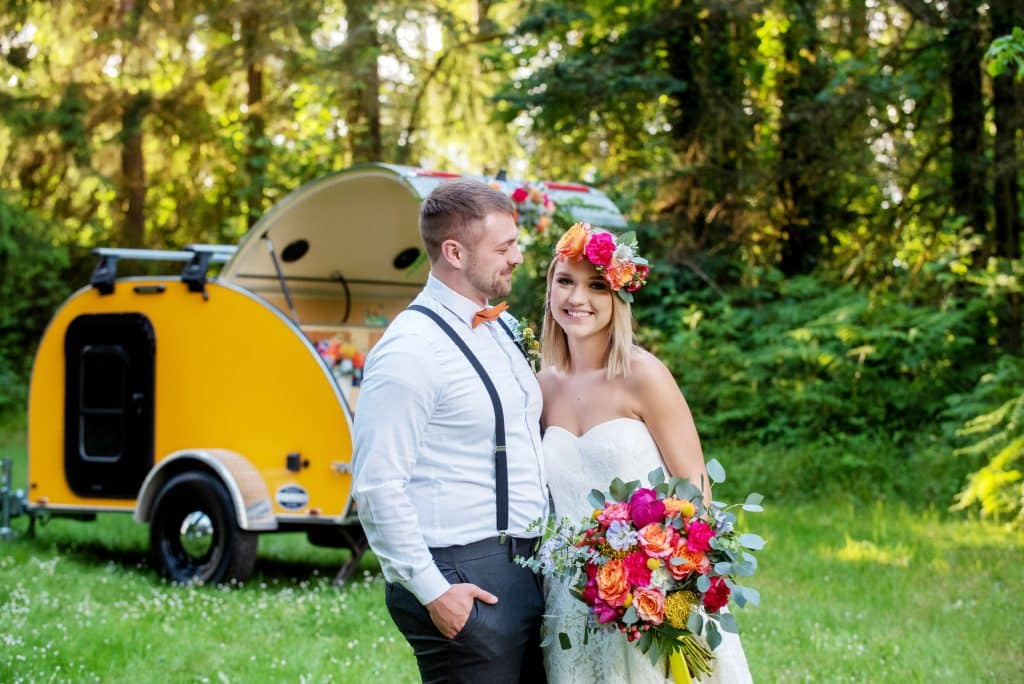 2. Tiny House Magazine: Elope with a Teardrop Trailer from Weddings on Wheels
The Wedding on Wheels elopement shoot was also featured online by Tiny House Magazine! Michelle Boyle of Oregon Teardrop Rentals also builds tiny homes and owns a tiny home vacation rental business called My Tiny House Village. We were thrilled when Tiny House Magazine wanted to do an online feature of our elopement styled shoot! Check out the feature here!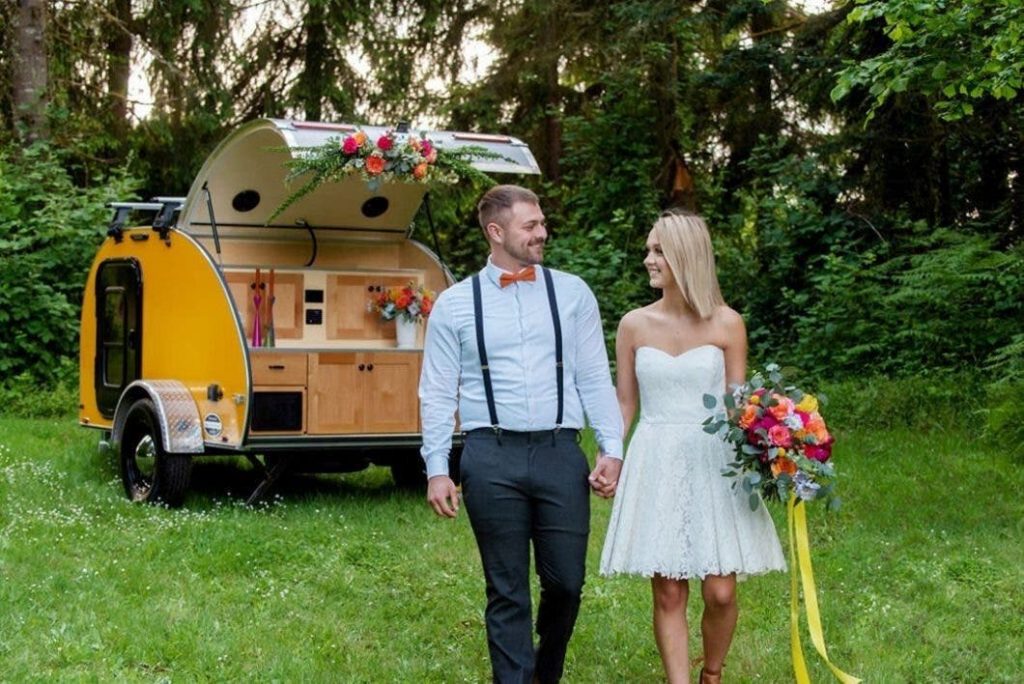 3. Outdoorsy Magazine: another Wedding on Wheels feature!
Our Wedding on Wheels shoot got a lot of mileage as it was also featured online by Outdoorsy! As seen below, the Wedding on Wheels elopement package can include wedding flowers, champage, wedding cake, a teardrop camper trailer, and an onsite photographer, all delivered to your wedding site of choice! See the Outdoorsy feature here.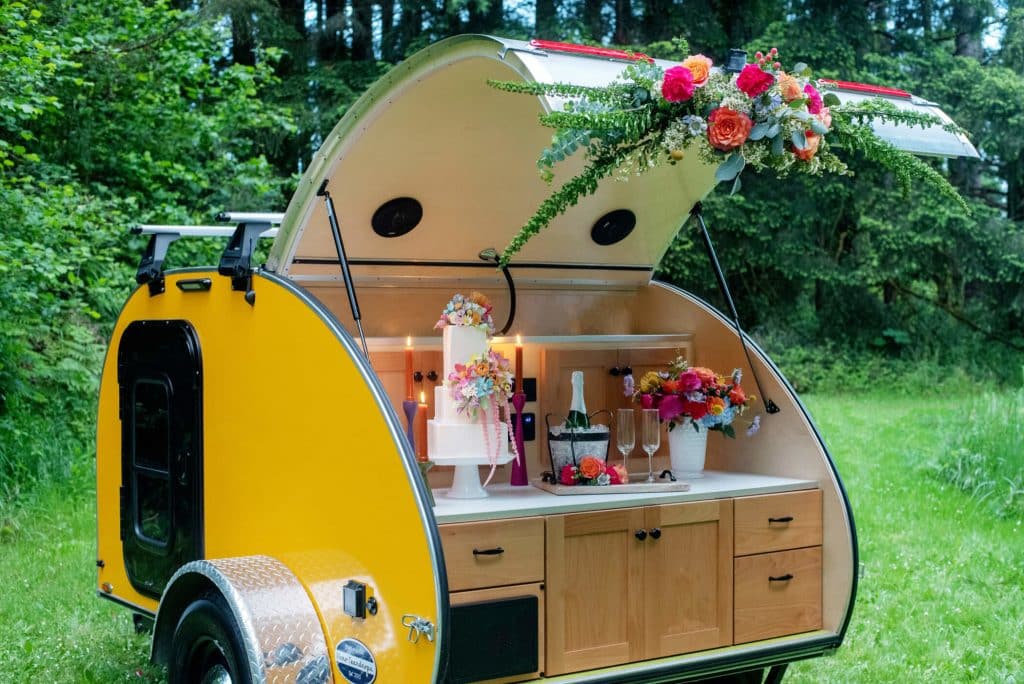 4. Oregon Bride Magazine ~ Intimate Elopement at Trillium Lake (online feature)
In early October, Oregon Bride Magazine did an online feature of our Trillium Lake Elopement shoot, photographed by Rachel Brookstein Photography and coordinated by Krystle Clear Events. Other collaborative vendors included rentals by Power of Love Rentals, a small wedding cake by Sugarhouse Cake, boozy popsicles by Sloshy Pops, and a bridal gown by the wedding gown designer Willowby by Watters from the Portland bridal boutique Anna's Bridal. Our models' hair was done by Coreene Collins Hair, makeup Portland area makeup artist Megan Blake and florals by Portland wedding florist, Flowers by Alana! This photoshoot was also shot by photographer Marcela Pulido.
5. Wedventure Magazine ~ A Jewel-toned Vineyard Wedding at Eola Hills Legacy Estates
Wedventure Magazine published our jewel-toned vineyard styled shoot in their Fall online issue, featuring the photography by Emily Skye Photography. To see the feature, you can download the Wedventure Magazine app and download a copy of the Fall 2020 Issue 12. You can also purchase the wedding magazine on issuu.com for $1.99. This styled shoot took place at the Eola Hills Legacy Estate Vineyard, a winetasting room and vineyard wedding venue in Salem, Oregon, and was also photographed by Ashley Masters Photography and Alisha Hale Photography. Blue Bonsai Printing designed the wedding stationery, For the Love of Pete Rentals supplied the rentals, and Adorned in Grace Bridal and Formalwear supplied the bridal gown. The groom's suit was from The Black Tux, and desserts were from Nothing Bundt Cakes in Clackamas, Oregon. Our stunning bride model was International Ms. Oregon 2020 Grace Roth and her partner Taylor. You can see a previous blog post on this jewel-toned vineyard styled shoot by Portland wedding florist, Flowers by Alana here.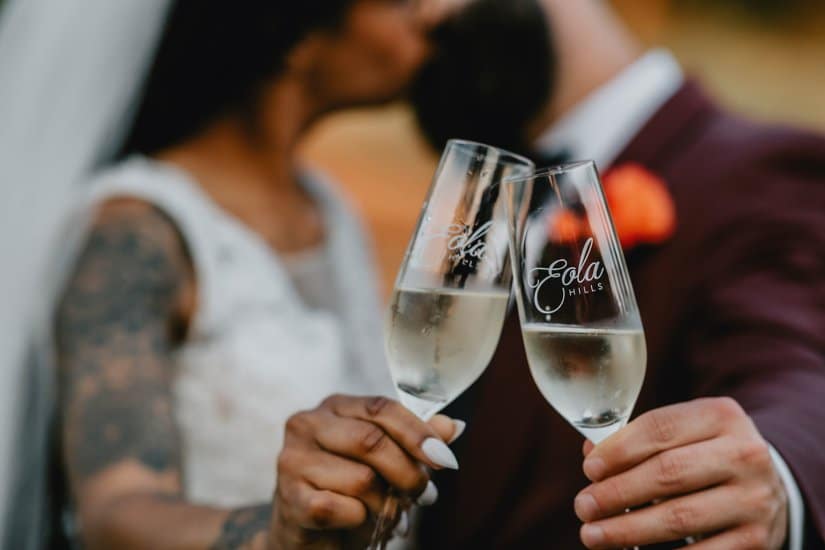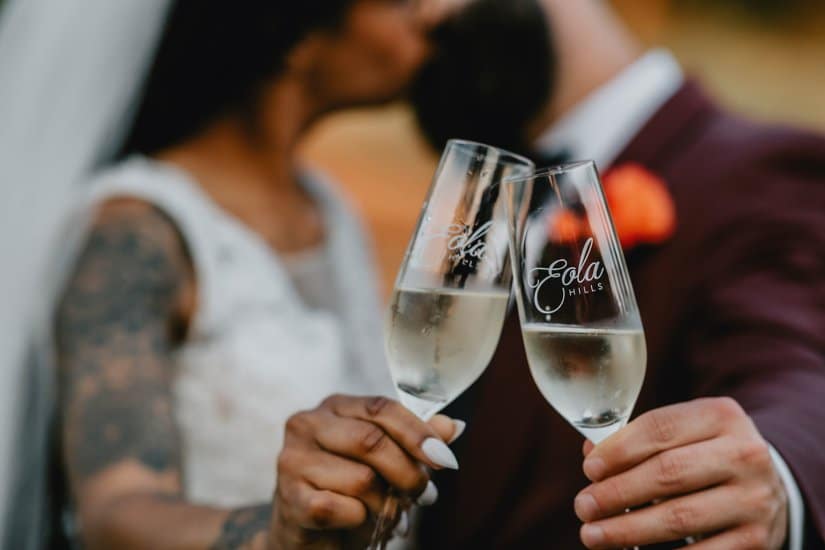 6. Oregon Bride Magazine ~ Trillium Lake Elopement is also featured in print in the current (Spring/Summer 2021) issue!
Oregon Bride Magazine decided to not only publish this shoot in the online feature mentioned above, but also IN PRINT!!! You can find the wedding magazine in most major grocery stores in Oregon or you can order a copy here. Here's a previous blog post by Portland wedding florist, Flowers by Alana with details of this gorgeous elopement styled shoot!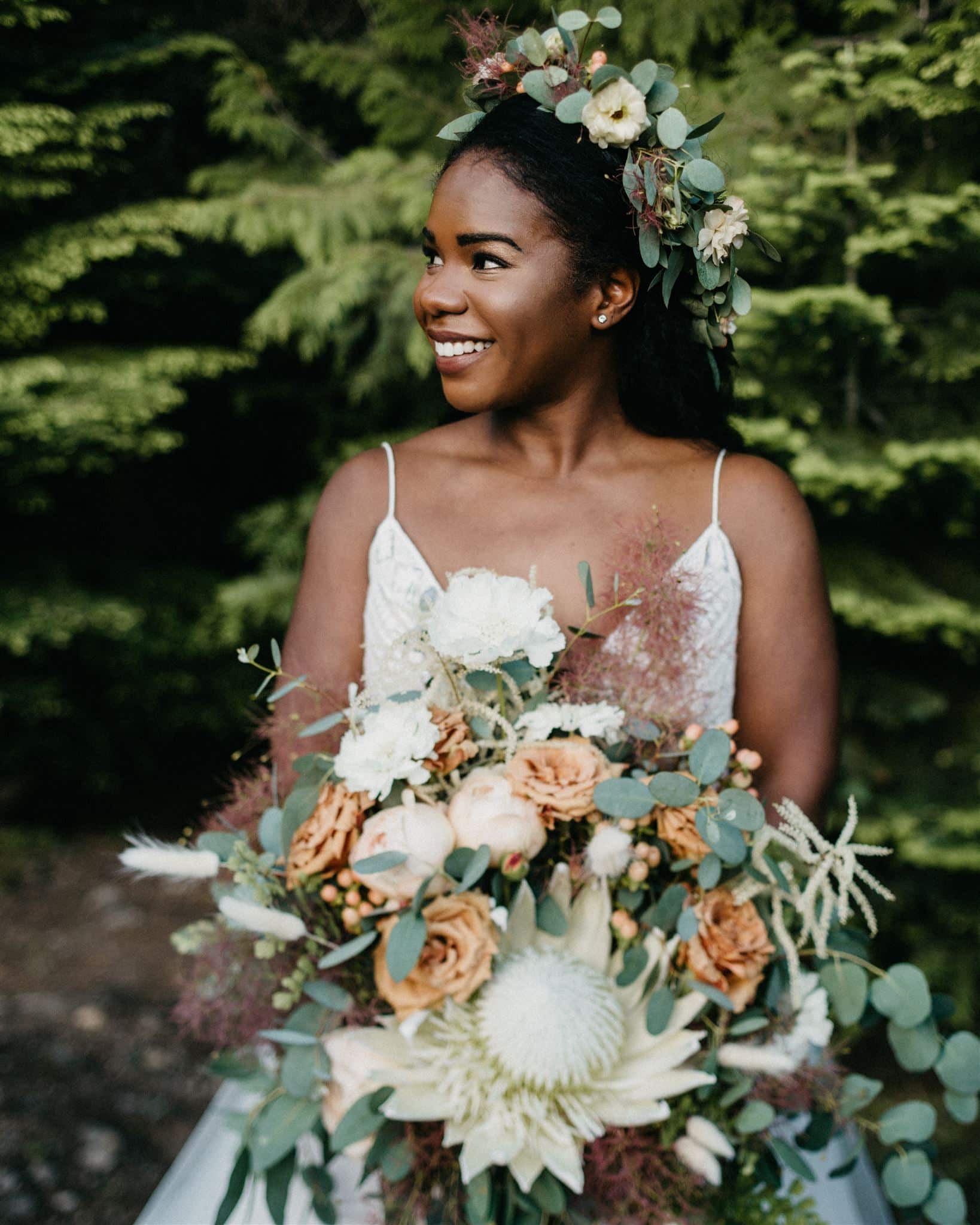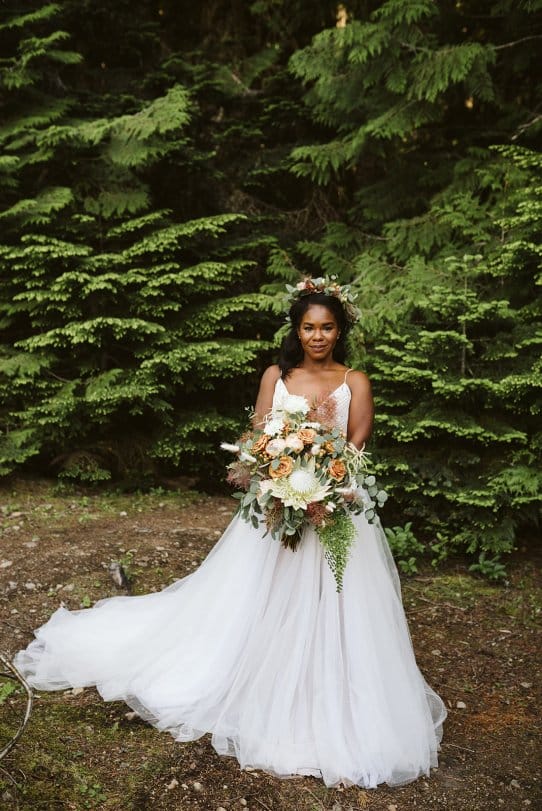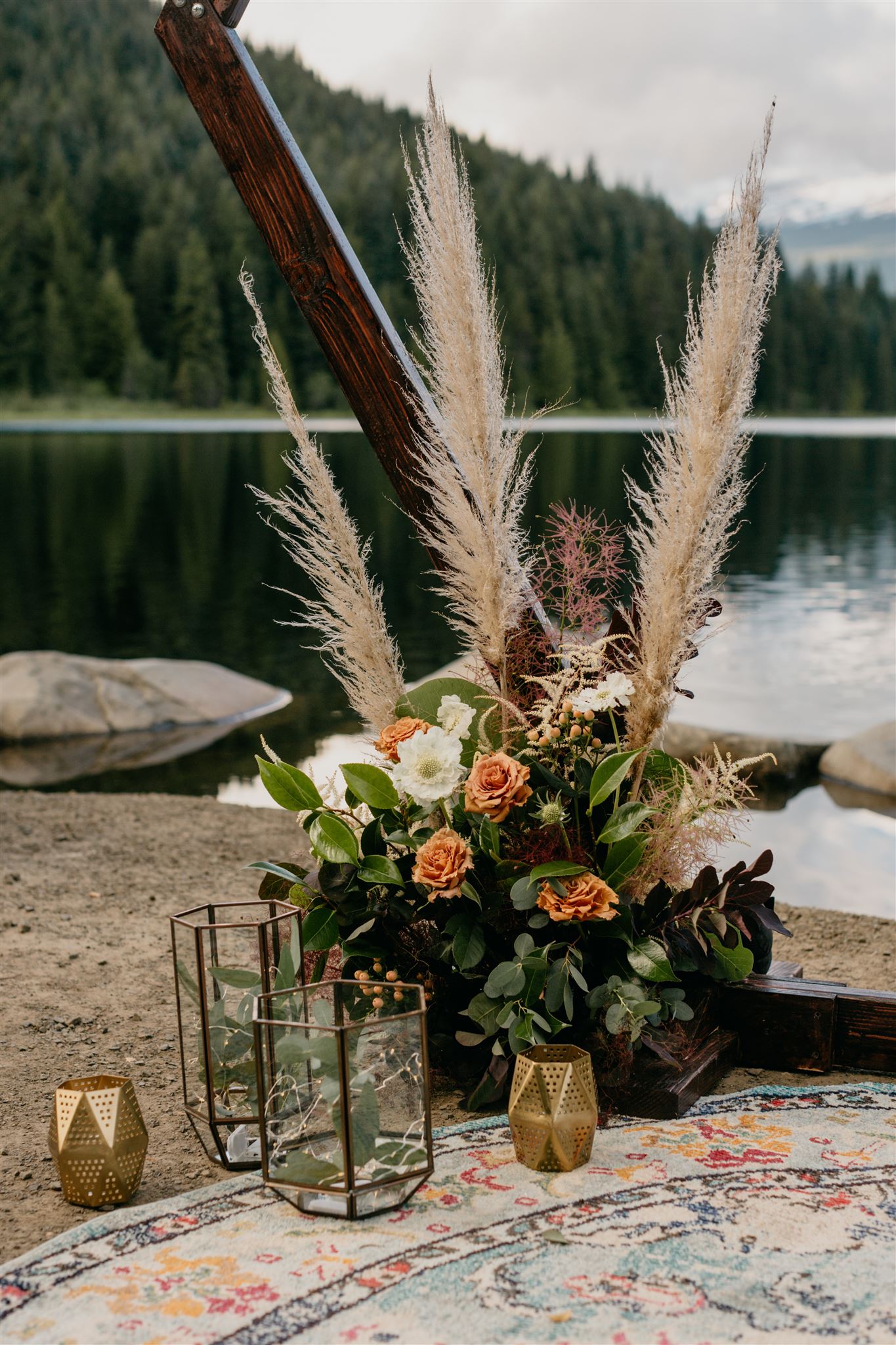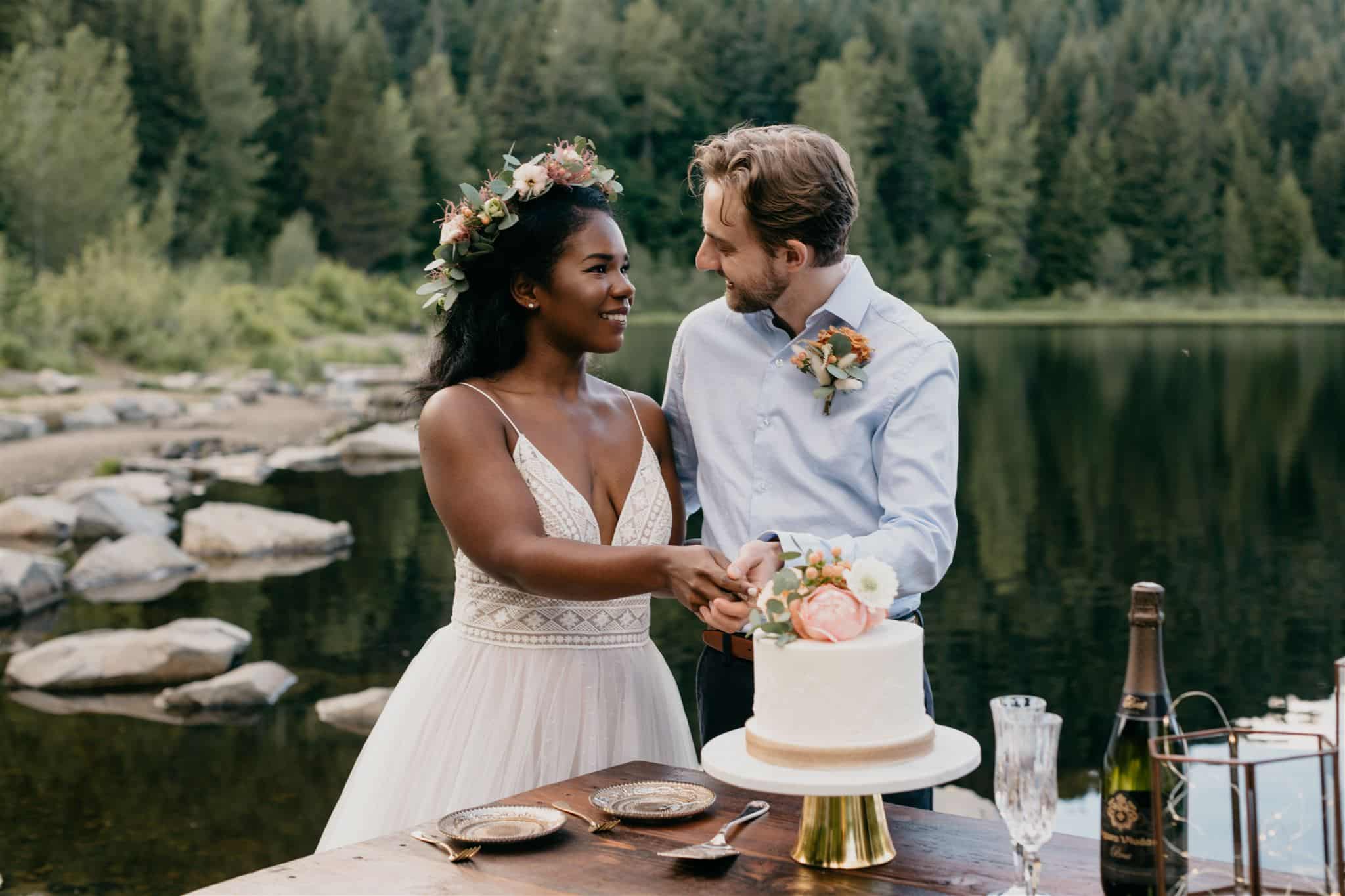 7. Oregon Bride Magazine (online feature) ~ Bohemian Styled Shoot at the Brent Family Farm
We've received a lot of love from Oregon Bride Magazine this year and we're so grateful! Our most recent publishing is of a stunning boho-inspired wedding styled shoot Flowers by Alana designed florals for this fall at a farm and new wedding venue, the Brent Family Farm in Oregon City. The magazine feature includes photography from Emily Skye Photography, but the shoot was also photographed by Amy Coles Photography and Hannah of HVFitz Photos. Videography was captured by Michaela M Visuals and wedding planner Krystle Clear Events coordinated the shoot. Rentals were acquired by Power of Love Rentals as well as Events Etc NW, and Leslie's Cakeroom created a stunning masterpiece of a cake suspended UPSIDE-DOWN with which she won first place in the contest Cake Champions!!! Other wedding vendors in the shoot included Blue Bonsai Printing with wedding stationery, wedding makeup and hair stylist Morgan Nichols, and florals from Portland wedding florist, Flowers by Alana, of course! Our model was the absolutely stunning Ms. Washington 2020/2021 Amy Honeybee who wore a dress from Ania Bridal and her husband, our groom model wore a rust colored suit from Nordstrom. You can see the online feature by Oregon Bride Magazine here.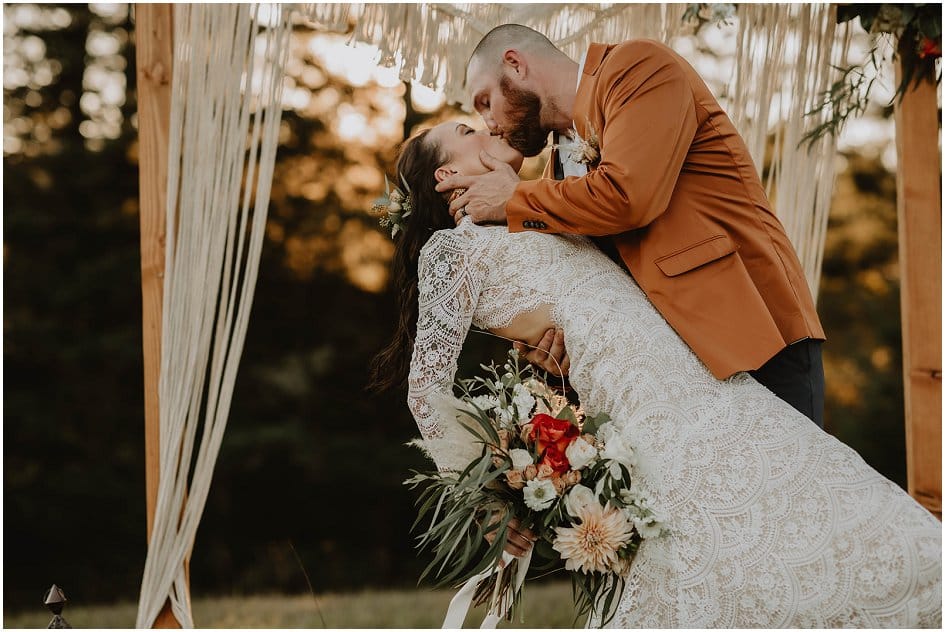 Engaged and planning your wedding? Flowers by Alana would love to be your wedding florist! 2021 and 2022 dates are booking quickly, contact us soon to book a free consultation to discuss your wedding vision and gorgeous wedding flowers!