Wedding on Wheels adventure elopement inspired photoshoot, take three! This time, we hitched up Amerigo, the stunning red teardrop trailer from Oregon Teardrop Rentals, and headed to the beach for an Oregon Coast adventure elopement editorial photoshoot! We ventured just north of Seaside, Oregon to Del Rey Beach State Recreation Site, one of the few beaches in Oregon that you can legally drive right on the sand! This Oregon coastal adventure elopement photoshoot was photographed by Crystal Genes Photography, produced by NW Wedding Underground, and videography was captured by Casperson Productions. We are so proud to announce that this photo shoot was recently published by the popular wedding publication Wedding Chicks!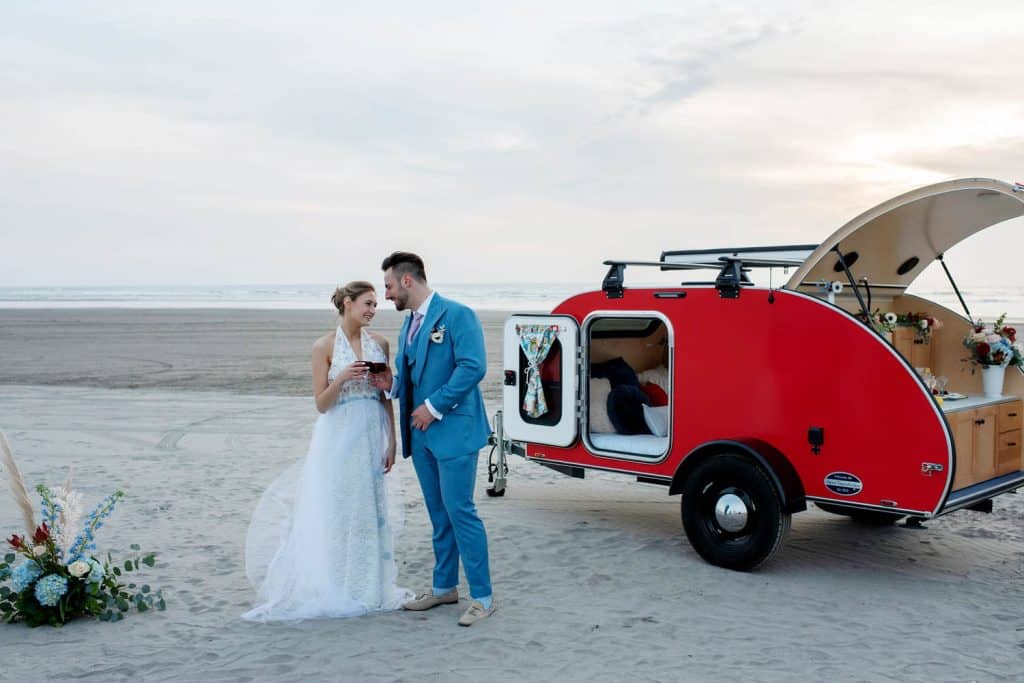 Wedding on Wheels is an elopement wedding package that was birthed at the start of the COVID-19 pandemic, when engaged couples were curtailing their large wedding plans and opting for adventure elopements and intimate weddings rather than canceling their weddings altogether. A Wedding on Wheels elopement package consists of a teardrop camper trailer from Oregon Teardrop Rentals, photography from Crystal Genes Photography, an elopement wedding flower package from Portland wedding florist Flowers by Alana, and a small elopement wedding cake. Add-ons like champagne and additional florals can also be added. Couples choose their destination for their Wedding on Wheels adventure elopement and the trailer, flowers, champagne, and cake will be delivered to their chosen destination site, along with a photographer to capture their intimate wedding or elopement ceremony.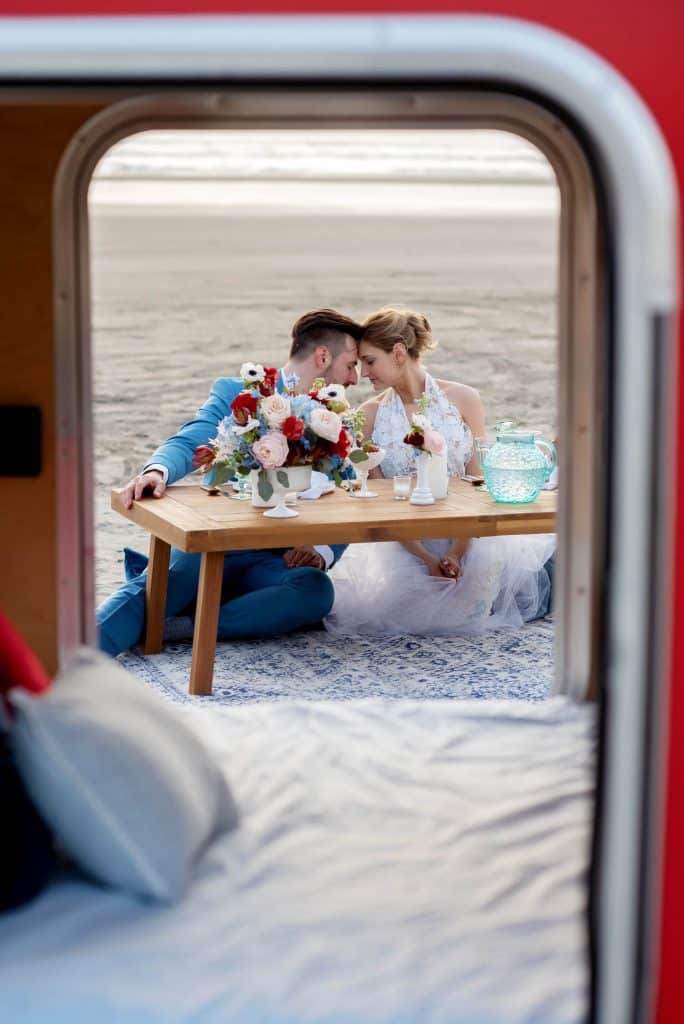 Our first photoshoot to highlight and promote the Wedding on Wheels elopement package was with Margot, a cheerful, bright yellow teardrop trailer. That colorful wedding photoshoot took place in a natural grassy setting in Sherwood, Oregon and has been featured several times over the past year, including features in the Oregonian, Outdoorsy Magazine, and Tiny House Magazine. Our second Wedding on Wheels elopement photoshoot featured a forest green teardrop trailer named Aspynn, in an urban courtyard setting in Portland, Oregon surrounded by concrete and red brick buildings.
This Wedding on Wheels adventure elopement photoshoot at the Oregon Coast was our biggest photoshoot yet, as we collaborated with so many wonderful wedding professionals to showcase their immense creativity and wedding talent. Events by Erie, an Oregon coast wedding planner incredibly executed the wedding planning and coordinating of this elopement photoshoot. The groom's beautiful blue suit was custom made by Fashion Tailored, a men's suit company based out of San Francisco. Benjamin, our groom model for the shoot is actually one of the founders and owners of Fashion Tailored! Our bride model, Ellie wore a custom made bridal gown designed by Betty's Girl Napa, a clothing designer for custom made gowns and alterations in Napa, California. The shoot also featured custom made jewelry by Ringed, including wedding rings, earrings, and a necklace. Ringed is unique in that engaged couples can actually take workshops with owner and wedding jewelry designer Allison Ullmer and make their own wedding bands! Ringed also focuses on ecologically sourced and sustainable metals and gems in their wedding jewelry.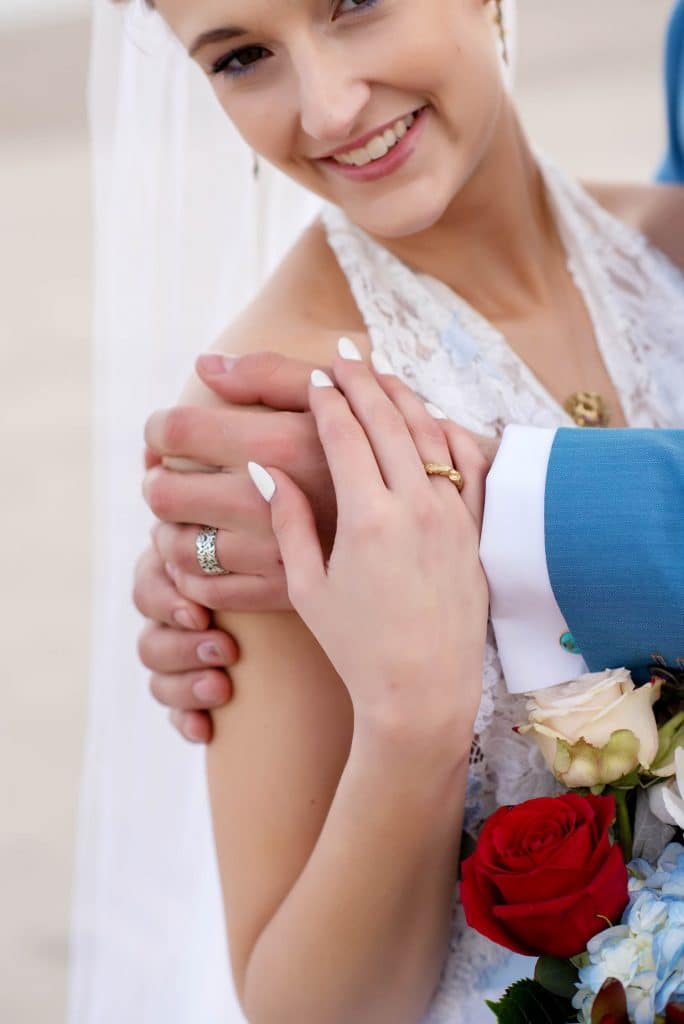 We placed a round rug and throw pillow on the sand and staged a cozy elopement picnic, catered by The Platter Girl, who custom makes beautiful charcuterie platters. Décor rentals like tables, pillows, and rugs were rented from Cannon Beach Party Rentals. Dinnerware, drinkware, and several vintage glass floral vessels were rented from Setting the Table Rentals.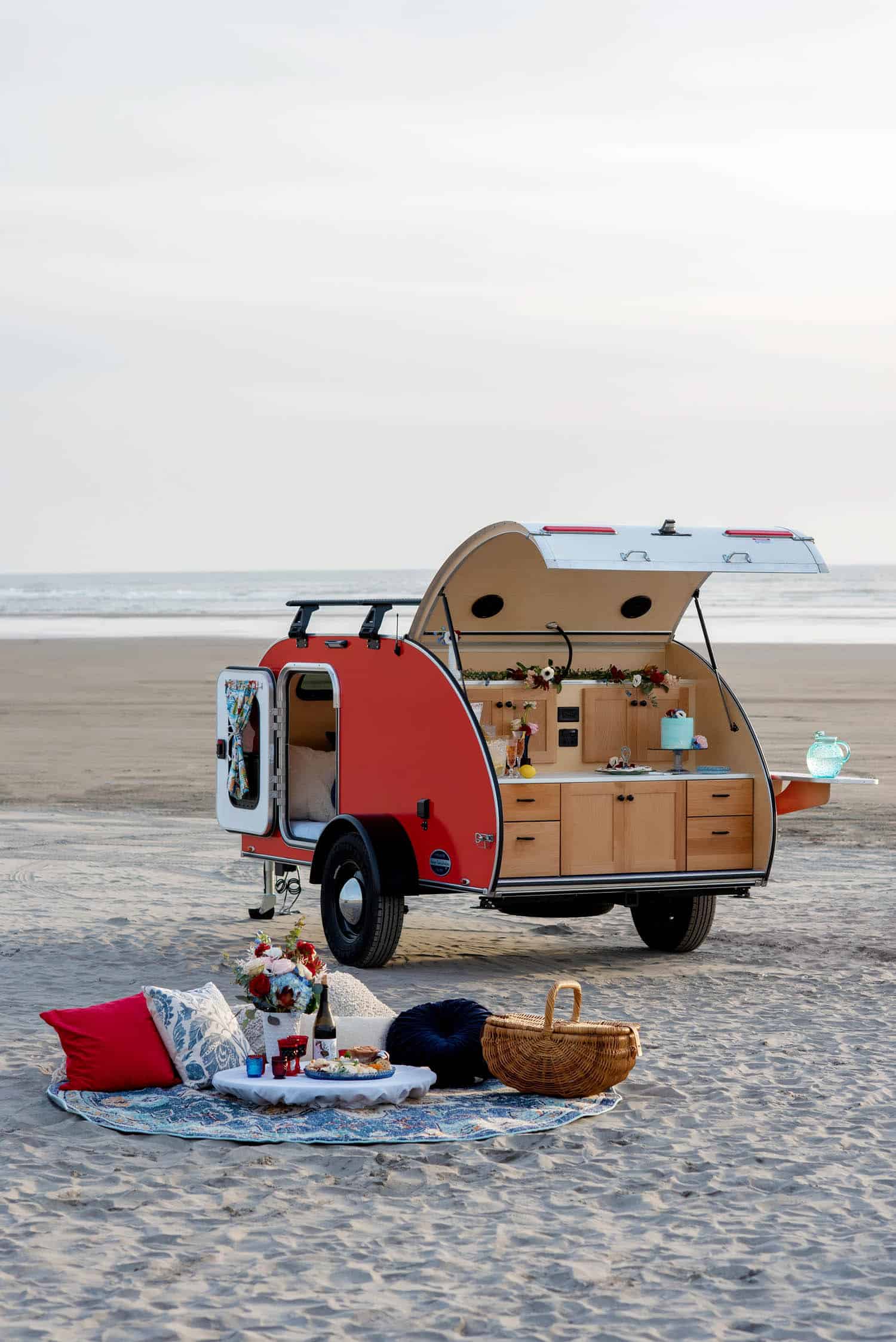 For the ceremony florals, Portland wedding florist Flowers by Alana created a non-traditional on-the-ground floral installation next to the teardrop trailer. On-the-ground wedding altar florals are a great alternative to wedding arbor installations, because they don't require you to build or transport an arbor structure, and they create a beautiful, intimate ceremony spot full of lush flowers without hindering the natural view. After the ceremony, you could throw down a rug and pillows for a cozy photo-op spot, or repurpose the installation by surrounding the sweetheart table with the floral sections. This on-the-ground floral installation was designed with pale blue hydrangea, pale blue delphinium, red safari sunset, quicksand roses, beige colored pampas grass, eucalyptus, bleached and preserved Italian ruscus, and salal greenery.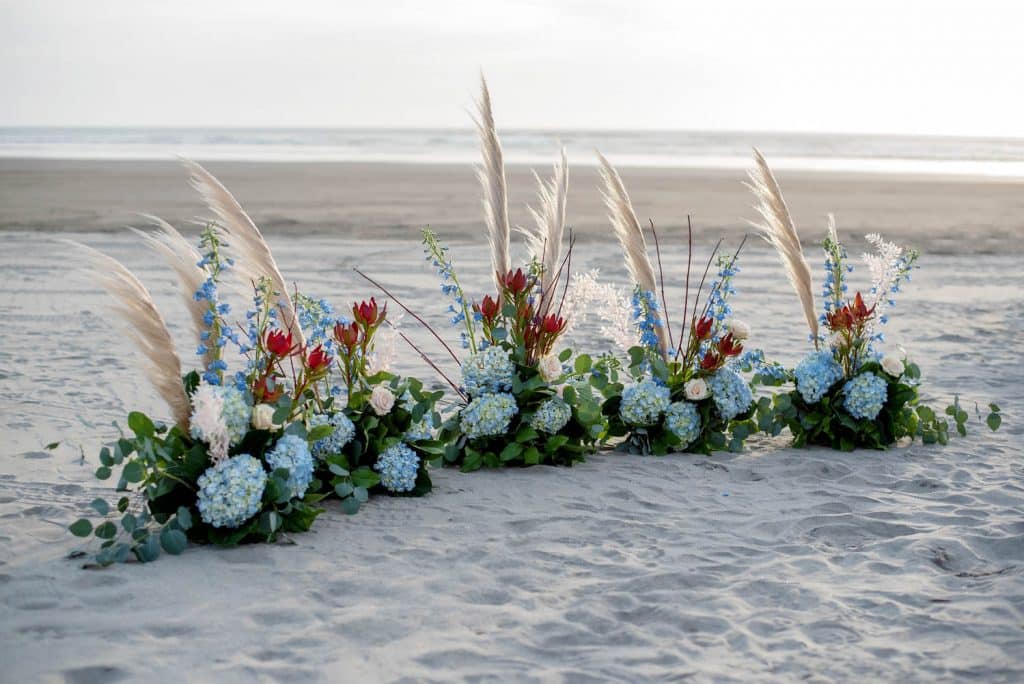 This adventure elopement photoshoot differed from our other Wedding on Wheels elopement photoshoots in that we actually brought in a wedding officiant! We were joined by the lovely officiant Carolyn of Oregon Beach Ceremonies who led a beautiful ceremony to marry our elopement models (for pretend!) Our models' hair and bridal makeup was done by The Union Knot, a salon in Cannon Beach, Oregon. On Benjamin's suit, Oregon wedding florist, Flowers by Alana designed a floral pocket square, an alternative to a pin-on boutonniere where flowers are glued to cardstock which gets slipped into a suit pocket (like a fabric pocket square.)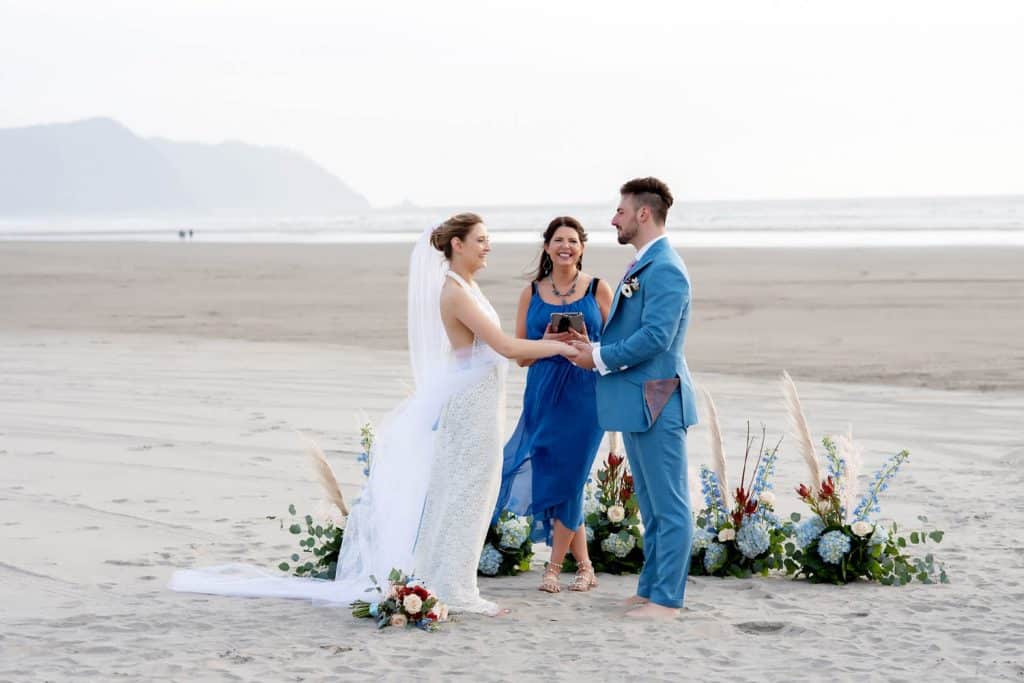 On the other side of the trailer, we staged a low to the ground sweetheart table with a variety of florals and bowls of fruit and dinnerware from Setting the Table Rentals. At the bride and groom's place settings, we placed single loaves of French bread baked by Dough Dough Bakery that our paper artist The Scribblist hand labeled "Bride" and "Groom." The Scribblist also hand-lettered and hand-painted a gorgeous bar sign, a menu, and a set of invitations featured in our flat lay. At the back of the teardrop camper trailer, we set up a cocktail bar with custom made cocktails from The Culinary Concierge, and cookies and a beautiful (and delicious) wedding cake made by Rising Tides Baking Company. Adventure elopements may be small in scale, but you can still incorporate all your favorite parts of weddings ~ like flowers and dessert!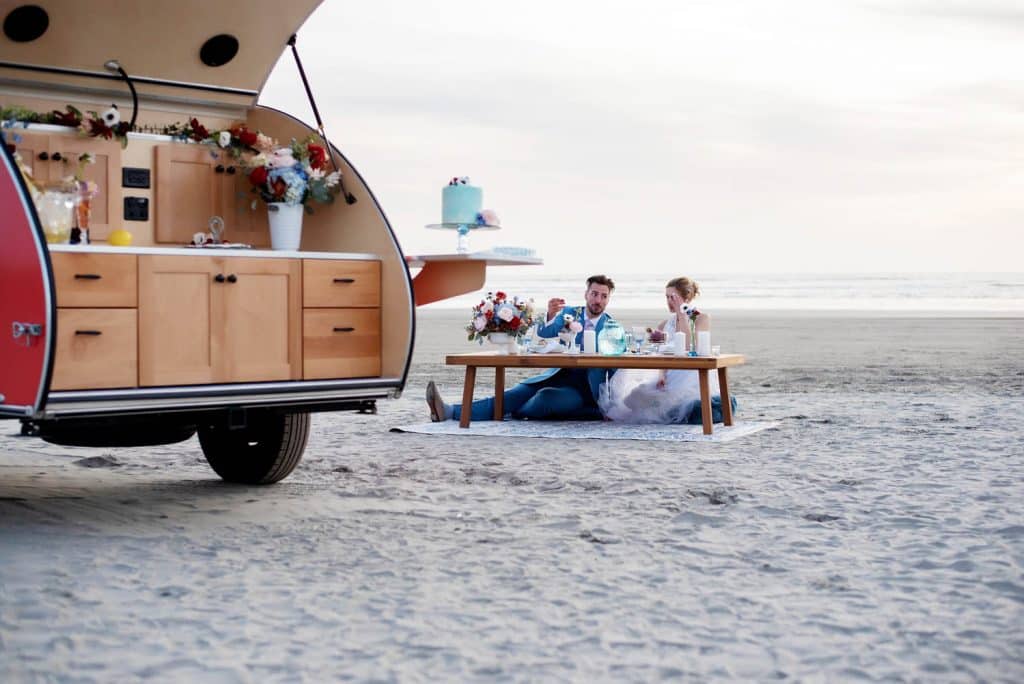 Follow this incredible team on Instagram!
Published | @weddingchicks
Produced | @nwweddingunderground⁣
Photo | @crystalgenesphotography⁣
Planner | @eventsbyerie⁣
Oregon Wedding Flowers | @flowersbyalana⁣
Rentals | @cannonbeach_partyrentals ⁣
@settingthetablerentals⁣
Hair and Makeup | @theunionknot⁣
Officiant | @oregonbeachceremonies⁣
Camper Trailer rental | @oregonteardroprentals⁣
Video | @casperson_productions⁣
Jewelry | @ringedportland⁣
Stationery | @thescribblist⁣
Bridal Gown | @bettysgirlnapa⁣
Groom's suit | @fashion_tailored⁣
Cake | @risingtidesbakingco⁣
Bread | @doughdoughbakery⁣
Charcuterie | @the_platter_girl⁣
Custom Drinks | @the_culinary_concierge⁣
Tan| @cheekyglowco⁣
Models| @ell_ieward + @_benjamincharles